Sometimes camping can go comically wrong as these real life stories show!
1. Road Drip to Mars
Katy's story: It was Halloween night 2018, and my partner, Richard and I were on our 3rd road trip together in 'Margot'. 'Margot Movano' is a Vauxhall van conversion. She's getting old but she's done us proud with her double bed, pull-out loo, single-ring gas camping stove and lots and lots of fairy lights.
We were only half-way through our week away, travelling through Wales (again), or Mars as we like to call the landscapes of the Brecon Beacons.
That evening as it was getting dark, we parked up on the top of a cliff overlooking the sea with what looked like some fields just below. There was a barrier so it was safe but it felt very, very high up! We decided to stay there for the night to enjoy the amazing view in the morning with our breakfast. So, we settled down to make some dinner. I opened a bottle of red wine and some crisps, thinking about how lucky we were to be there.
Rich cooked up a hearty meal, juggling the saucepans and a frying pan on the single-ring gas hob with the showmanship and flair of a magician. He was showing off, and I was getting quite tipsy. I happily worked my way through the bottle of wine while he mashed the potatoes, boiled the carrots, fried the sausages and eventually served up our dinner (which, after the tinned soup at lunchtime, felt like a banquet!)
Once our tummies were full and the wine had all gone, we decided to settle down for the night and that's when we noticed it had started raining. Usually, we love to listen to the sound of the rain on the roof and feel safe and warm in the dry. But suddenly the rain was pelting the roof hard, the wind had got up and we were caught in a full-blown storm.
I thought about our clifftop position in this very strong wind and felt a little precarious but decided that Margot was big and heavy, and we'd be fine where we were. And then it started…. drip, drip, drip, drip. The rain was coming in through a hole in the roof that hadn't been there last time it rained! It was drip, drip, dripping straight onto my pillow and the bed was now wet and quickly getting wetter.
After much cursing, he decided he would have to take a look at the situation. I reminded him we were parked on a clifftop, but he thinks he's a superhero so he put on his bright yellow heavy-duty waterproof, (his cape), the one that doesn't do up anymore… and carefully climbed up onto Margot's roof, holding on tight to her roof-rack as the wind blew harder, the rain got heavier and a loud clap of thunder boomed overhead.
I'm not religious but I did make like Aretha Franklyn and said a little prayer – just in case. He climbed down, the wind still howling, the rain now lashing in through the open door, and still drip, drip, dripping in through the hole in the roof onto my pillow.
He said, in a slightly desperate tone of voice, "I need something to plug the hole but it has to be waterproof…."
Quick as a flash he remembered he had some denture glue (you'd never know!) Anyway, the denture glue was our surprising saviour that night. He climbed back up, managed not to get swept off the cliff by the strong wind, plugged the hole and hey presto - no more leak!
Unfortunately, my pillow was soaked through, so I talked him into staying in a cheap Travelodge that night. Luckily, I had drunk almost all the wine while he had been cooking so he was still safe to drive.
I was plastered, he was drenched and we spent a lovely impromptu night in a hotel for a change, drying out the pillow with the hotel hairdryer for our next night in Margot. We never did get to see that view in the morning.
Every year we write silly poems about our road trips in Margot. That year's poem ended with the lines: "When rain dripped fast right through the roof, He plugged the hole with glue for tooth!"
2. Keep Calm and Carry on Camping
Suzanne's story: I used to go camping in France every year with my parents and my sister from when I was a baby up until I left home. In 1989, when I was a teenager, we met a lovely Dutch family who helped us manoeuvre our caravan into the tight plot that we had been allocated. The Dutch family had two boys that were a similar age to me and my sister. A real friendship was formed and for years we would meet up with them in France, camping every summer.
There was always laughter and a lot of mischief when we were with the Dutch family. Their son, Andrew was a real live wire and between him and me, we would often pull pranks on one another.
One evening, I was going out with my parents and was all dressed up and ready to go. I had a final trip to the toilet block before I got in the car when from out of nowhere Andrew rugby tackled me, carried me into the showers and completely soaked me. I got a real roasting from my highly strung dad as it delayed us leaving.
I planned my revenge.
The following day, we had all been swimming. We were back in the shower block and when Andrew went into a cubicle, I went into the one next door and chucked some water over the top. I then quickly got out of the cubicle and unbeknownst to him, a French lady went in after me. Andrew then threw loads of water over the door thinking I was still in there…
We heard a brain-piercingly loud scream as the French lady was soaked in cold water shortly before both Andrew and the now bedraggled looking French lady both came out of the cubicles. She was yelling and screaming at him. He was absolutely mortified. She was completely drenched. He didn't pull any more pranks after that!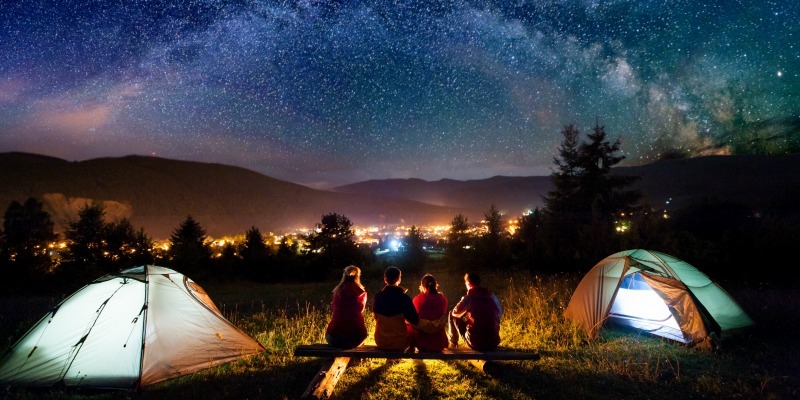 Sometimes things don't turn out quite as planned, especially when you're at a campsite with pranksters or in a camper van on a clifftop in a storm!