We've chosen our top 5 best value family tents from independent camping stores and included tips on what to consider before making your purchase.
If you're looking for a good quality tent that's big enough for your whole family and won't break the bank, then you've come to the right place. Whether you're upgrading an existing family tent or buying for the first time, our pick of the best is based on overall quality as well as value for money.
What to Consider When Buying a Family Tent
While it's tempting to consider spending just £50 or so for a 4-person tent, if you want to stay dry, have enough space and a tent that lasts, it's more prudent to invest a little more. There's a dizzying array of tents available with all sorts of features but sometimes just knowing the basics will mean you are more likely to make the right choice. Now is also the best time to buy a tent as many camping shops are currently offering reductions.
The most important feature to look for when buying a tent is the 'hydrostatic head measurement' (sometimes seen as 'water column') or HH. This number indicates how waterproof the tent material is and the higher the number, the more waterproof the tent. As a general rule, 3,000+ should stand up well in heavy rain.
The size and shape of the tent can also be important as high-sided and tall tents can suffer in adverse weather conditions. The next things to consider are the number of separate rooms you will need and whether you would like windows, a sewn-in groundsheet, zipped cable entry points, insect-free ventilation or a door with a porch layout which can be handy for keeping muddy boots out of the sleeping areas. A good rule of thumb for buying family tents is to go bigger than the person size stated as a growing family of 4 will be a lot more comfortable in a 5-person tent.
Best Family Tents for 2020
Here's our pick of the best available for 2020, all from independent UK camping specialists:
The Vango Hudson is a 5-person family tent with a flat front entrance, a sewn-in groundsheet and windows. It has ventilation panels and a pre-attached overdoor canopy for cover from sun and rain. This tent is amazing value for money and currently reduced at Attwoolls Outdoors, an independent 4th-generation family business specialising in camping. Based in Gloucester, Attwoolls is the UK's biggest independent outdoor store.
Weight: 15.95kg
Pack Size: L70.0 x H25.0 x W30.0cm
Waterproof HH: 4,000mm
The new Vango Ascott II 500 for 2020 is a 5-person tent with a canopy over the drop-down door, a sealed-in groundsheet, insect-free ventilation and a room divider that can be removed to sleep up to 5 people in one large bedroom or attached to create two bedrooms for up to 4 people. The tent has windows with toggle-up curtains and a new Nightfall blackout material blocks out early morning light to improve sleep. This tent is good value for money and currently reduced at Taunton Leisure, an independent shop specialising in camping and outdoor equipment based in Somerset with over 40 years' experience. TGO's Independent Retailer of the Year.
Weight: 12.0kg
Packsize: L73.0 x H28.0 x W28.0cm
Waterproof HH: 3,000
The Willwood 5 by Outwell is a 3-room tunnel tent with a deep front canopy, large tinted windows for added privacy plus added inner windows. Featuring mesh panels for insect-free ventilation, darkened bedroom areas, a D-door, side door, a sewn-in groundsheet and plenty of space inside and out. This tent is currently reduced at The Camping and Kite Centre Devon, specialists in camping and outdoor supplies with shops in North Devon and South Wales.
Weight: 21.1kg
Pack size: 73 x 35 x 35cm
Waterproof HH: 4,000
The Coleman Pinto Mountain tent is a 5-person head-height tunnel tent with 3 rooms, a porch area and darkened bedroom areas. It has a full-height door with a drop-down section that provides a totally flat entrance and SPF50 for added sun protection. This tent is designed for easier pitching and available from Outdoor Hub, an independent UK shop based in Truro in Cornwall specialising in outdoor activities including camping, surfing, sailing and other sports.
Weight: 16.8 kg
Pack size: 70 x 32 x 30 cm
Waterproof HH: 4,500mm
The Coleman Cortes Octagon 8 is a spacious octagonal tent that offers 360-degree views for up to 8 people, with a sewn-in groundsheet and a room divider to partition the tent into two rooms. Six of the sides open up completely while the other two feature hinged doors. This tent with its modern design has a spacious feel and is available from BCH Camping, an established independent camping shop in Bath that was founded in 1976 specialising in everything needed for camping and caravanning, travelling and trekking, walking and climbing.
Weight: 24.7kg
Pack Size: 72 x 33 x 33cm
Waterproof HH: 3,000mm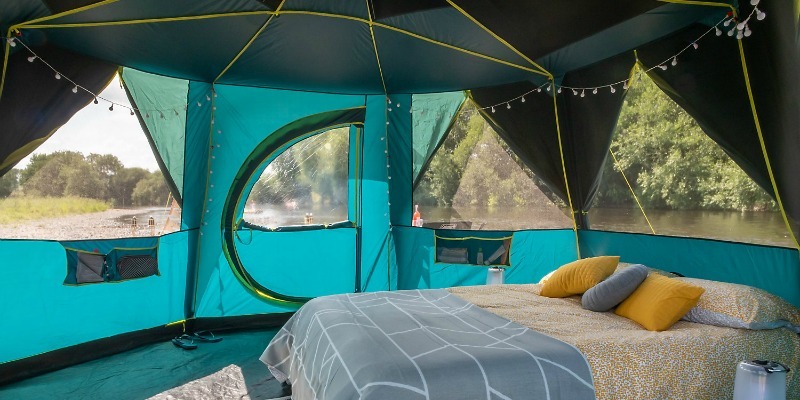 The best budget tents for families are ultimately the ones that will withstand heavy rain, offer adequate airflow inside and enough space for your family to feel comfortable. Add to that the weight and size of the packed tent for transportation and the pitching time (how long it should take you to put it up) and then any added extras that are particularly important to you such as blackout lining for improved sleep. All these tents have a similar pitching time of around 20 minutes and have been designed to be packed away easily after for your next adventure!