Here's your guide to 7 of the best books on caravanning including titles from two celebrity authors.
No matter whether you're a caravanning novice or a seasoned pro, there will be a book on the subject that will entertain you, inspire you, or make your caravanning life easier. And you're likely to find that book on this list.
Caravanning's ultimate all-in-one everything-you-need-to-know. Make the Most of Your Caravan offers useful, in-depth advice on everything from buying a caravan, caravanning accessories, caravan weight considerations, towing and maintenance, to choosing a site, pitching up, and how to use and make the most of your caravan's amenities. The book is broken down into easy access subject by subject chapters.
As it happens, the ex-Top Gear presenter isn't only interested in driving cars. He likes using them to tow caravans too. He's actually something of a caravanning fanatic. His fun-filled guide to caravanning is likely to raise a smile on the lips of both caravanners and non-caravanners alike. Its all-encompassing overview of all things caravanning future, past and present includes a section on caravan racing and the author's musings on the role caravans have played in preventing a third world war. And if you're thinking of upgrading your caravan but want to avoid the rigmarole of selling your current model, there's a handy guide on the alternative option of blowing it up!
Basic kitchens call for simple recipes. Thanks to Master Chef host and seasoned caravanner Monica Rivon, there's a book full of them, each specially devised with caravanners in mind. Caravan Cookbook is packed full of easy to make tasty novelties and simplified spins on time-tested classics that even inexperienced cooks can rustle up at ease. There's also advice that covers caravan cupboard essentials and how to make use of fresh locally bought or foraged produce. Who likes the sound of 'cider chicken' followed by 'caravan crumble'?
If you want to keep your caravan ship-shape for years of adventuring to come, you're going to need to maintain it. The world of servicing, mechanics and caravan DIY can be daunting for a novice, or at least a novice without a copy of The Caravan Manual to hand. Now in its fourth edition, The Caravan Manual is a bestselling guide to caravan maintenance. It instructs how to maintain and repair every aspect of the inner workings of caravans old and new, covering everything from running gears to computer wiring. A must-have manual for those keen to keep their caravans in prime trip-ready working order.
True stories: often stranger than fiction, and sometimes funnier too. Especially when those stories involve caravan holidays. Travelling in a Box is the true story of a family's grand adventure traversing Europe in a 30-year-old caravan. Join them for the trials, mishaps, misadventures, disasters, bumps in the road, and fleeting moments of sublime joy that make it all worthwhile.
Perhaps you read the title and thought, "atlases, who needs one of those these days? I've got Google Maps!" If you did, please prepare to stand corrected. Complied by the makers of the UK's bestselling atlases, Philip's Navigator Camping and Caravanning Atlas of Britain provides a quick point of reference for every piece of road-related information any caravanner could possibly need. The atlas features every road in Britain and details 256 bridge width limits, 1477 bridge weight limits and 6290 bridge height limits. It also pinpoints the locations of over 3000 campsites and offers some handy information and advice from the Camping and Caravanning Club.
Journey through the pages of caravan history in My Cool Caravan, the ultimate guide to the rising trend of retro-inspired caravans. My Cool Caravan introduces readers to a group of retro-styled caravan owners who take turns to show off their caravans and share their favourite caravanning memories. The book is divided into 7 chapters, each dedicated to a specific sub-style of British and American retro caravans, which include 'country cottage,' 'trailer park treasures,' and 'British classics.' This one's a great pick for those who share a passion for caravanning, interior design, and vintage chic.
Not in the mood for books right now? Take a look at our guide to the quirkiest camping and travel comedies instead.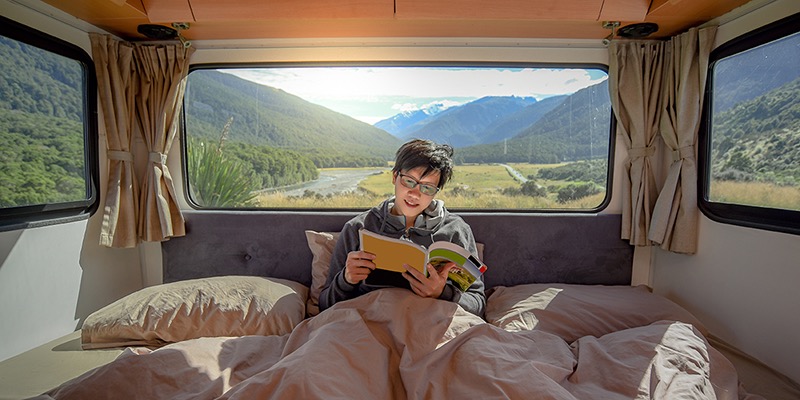 There you have it. From handy how-tos to funny stories from family caravan trips, this selection of the best books on caravanning contains everything any caravanner's bookshelf could ever need.