When you're camping, whether you're under canvas or in a camper van, the easiest way to make dinner is in one pot.
Here's my pick of the tastiest one-pot camping recipes, with vegan alternatives so there's something for everyone. I have included well-known and much-loved favourites from all over the world. Just click on the title for the full recipe or watch the video.
The origin of this simple dish comes from France and is known as Cassoulet. The more modern camping adaptation is sometimes called Cowboy Stew - although never in France! Sausage and bean casserole is a delicious, time-honoured favourite with adults and children, meat-eaters and vegans (because it's so easy to 'veganise'!) The beauty of this protein-rich casserole is not only can you cook it all in the same pot, but it's real comfort food that will fill you up for hours.
In my vegan recipe, I use vegan sausages and vegetable stock with chunky carrots and potatoes, that when cooked for long enough, just melt in the mouth.
Paella is a seriously tasty dish from Spain that traditionally contains a combination of meat and shellfish, gloriously flavoured with saffron. This is a camping version of the recipe and even if you can't get hold of all the ingredients, it's still worth making (although your Spanish friends may not be impressed!)
My vegan version of Paella replaces the chicken with soya 'chicken' or smoked tofu and the chorizo with vegan 'bacon' pieces (I recommend Vivera), which adds an amazing depth of flavour to the dish.
An old English recipe, a hearty Beef Stew is the simplest way to cook up a warming evening meal for any number of people (depending on the size of your pot, of course!)
Vegans should substitute the meat for chickpeas or could use green lentils, beans or soya protein alternatives, if preferred, plus vegan suet for the dumplings. It's a versatile recipe that you can add your favourite vegetables to since it works just as well with green beans, peas and swede as it does with celery and leek. You could make it with just carrot, onion and potato but I like to add courgette to my stew right at the end. Serious comfort food.
4. Thai Green Curry
An amazing dish from Thailand, this short video shows how quick and easy it is to cook up a Thai curry using just one pot in a camper van. I recommend the green curry paste by Thai Taste which is sold in most supermarkets and some smaller shops. It's vegan so ideal for everyone.
I use shallots, green pepper and baby corn for the best flavours and also add in pre-cooked rice or noodles in the last 3-4 minutes of cooking. The noodles need to be soaked in boiling water but the pre-cooked rice can simply be thrown in to heat through at the end. I love using cashews or tofu but meat and fish eaters may prefer to use chicken, monkfish or king prawns.
The humble stir-fry originated in China and might be the quickest and easiest one-pot meal ever! You could have a delicious, filling and nutritious meal ready in under 6 minutes if you throw in pre-chopped vegetables.
My own stir-fries don't use pre-made sauces, I simply fry the vegetables, usually with cashew nuts or tofu pieces in a little oil, add crushed garlic, lazy ginger, lemongrass and chilli and squeeze fresh lemon or lime juice over the finished meal. My favourite vegetables to add to a stir-fry include peppers, carrot, cabbage, courgette, red onion, broccoli, mange tout and baby corn. I add in a packet of cooked rice to heat through in the last 3 minutes of cooking.
Originally from India, this fish and rice recipe can easily be made in one pot, although if you're making it in a camper van, I recommend opening the door!
A vegan version of kedgeree can be made with tofu or cauliflower, but my favourite vegan kedgeree is this one using chickpeas.
Risotto is a classic Italian dish lovingly made by stirring arborio rice and adding the liquids just a little at a time. The flavours are enhanced by adding white wine and parmesan cheese.
For a vegan dish, simply add vegan-friendly wine and cheese or just vegetable stock and nutritional yeast flakes with vegan soya 'chicken' for a similar flavour. If you do want to use cheese, I recommend trying one of the slightly more expensive cashew-based 'cheeses' over any of the cheaper coconut oil versions. Risotto can be made with all sorts of ingredients. Try butternut squash and sage with parmesan and add peas, courgette, cherry tomatoes or spinach at the end - whatever you like best.
This pasta dish is magic! You don't have to boil your pasta in a separate pan from the sauce - who knew?
Veganuary knew and they want to tell the world so we are here to share the love. Super simple and full of flavour, you could add a tin of white beans at the end to make it more filling or try this lemony tuna, tomato and caper one-pot pasta recipe.
Another Italian classic, Chicken Alfredo is very simple yet pretty impressive with its rich and creamy blend of flavours and textures.
For vegetarians and vegans, the chicken can be easily replaced by vegan soya 'chicken' pieces and the cream replaced with soya milk flavoured with nutritional yeast flakes or vegetable stock as in this vegan adaptation of the recipe. I sometimes like to add Vivera vegan 'bacon' pieces for extra flavour.
Chilli con Carne is a spicy Mexican classic that can be easily 'veganised' by using veggie mince and either replacing or omitting the sour cream and cheese. It's a hearty protein-rich dinner with a fiery kick to warm even the chilliest of campers on a cool summer night! Serve with corn chips or bread (or stir in cooked rice) and add sour cream, cheese, guacamole and lime for the full effect!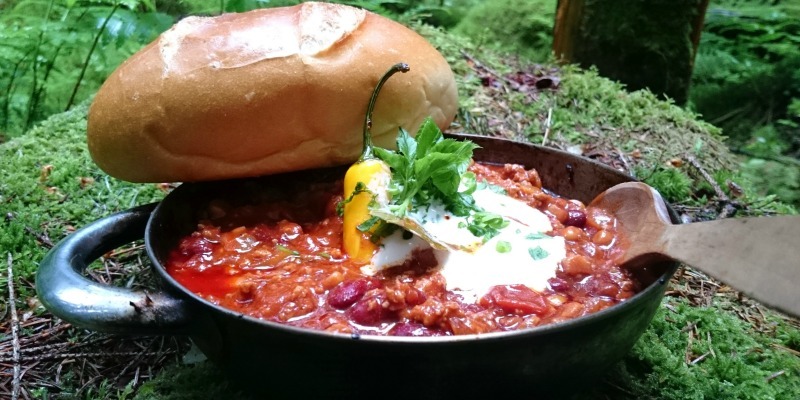 And if cooking amazing tasting food wasn't brilliant enough, making a whole meal in just one pot means less washing up and more time for fun.