Here's our selection of the best audiobooks for children of all ages including a subtle helping of nostalgia for parents.
Audiobooks are the newly indispensable items of family road trip kit. Whether you need something to keep the kids entertained while you're on the road, a plan B for those days when unexpected rain dampens your plans or a backup activity for when Monopoly squabbles start disrupting your evenings, you can't go wrong with a good audiobook.
Best Audiobooks For Toddlers
A contemporary children's classic. The heart-warming tale of an encounter between a mouse and a big, furry, forest-dwelling monster. The audiobook version is just 25 minutes long, but its brisk pace and rhyming are perfectly suited for short infant attention spans.
A year's supply – all you'll need and more to soothe your kids to sleep on any trip away. Listen to Cinderella, Pooh, Woody, Nemo, Simba, and many more of everyone's favourite Disney characters past and present embark on bite-sized original 1-page adventures.
110 years have failed to diminish the charm of the 36 stories that make up Kenneth Grahame's classic series, The Wind in the Willows. Generations have grown up with the tales of Mole, Badger, Rattie, and Toad, which remain just as enchanting to adult ears as they do to the little ones they were written for. Ready yourself for a 6 hour and 56-minute long blast of blissful nostalgia.
Best Audiobooks for Children
You may remember David Walliams as one half of the hit sitcom Little Britain, but in more recent years he's stepped into a new role, that of an acclaimed children's author. Gangsta Granny follows the story of Ben, who's unhappy about having been sent to stay with his Scrabble obsessive, cabbage soup guzzling grandma. But Ben quickly discovers he shouldn't judge a book by its cover, even if that cover happens to be a bit old and stuffy.
If the kids enjoy this one there are another 13 titles in David Walliams's back catalogue. His stories are proving so popular that some critics are even calling him the new Roald Dahl, speaking of whom…
One of the best-loved titles from one of our best-loved children's authors. Have all the family share the satisfaction of Roald Dahl's young heroine as she uses her newly discovered powers to wreak long-awaited revenge.
True, by opting for audiobook version you'll miss out on Quintin Blake's wonderfully evocative illustrations, but in their place you'll find an equally captivating narration from Kate Winslet.
No list of audiobooks for kids would be complete without Harry Potter. With 500 million books sold, a blockbuster Hollywood adaptation, and a fortune earned for author J. K. Rowling exceeding that belonging to the Queen, the popularity of the Harry Potter series speaks for itself.
As is often the case, the best place to begin is at the beginning. The Philosopher's Stone is book one and the hook that will draw you and your kids, inescapably, into the wizarding world of Hogwarts, quidditch, and He Who Must Not Be Named. Stephen Fry narrates the 8-hour, 44 minute audiobook.
Tales of mancub Mogli's navigation through the physical and the symbolic obstacles of growing up in a jungle alongside the unforgettable charisma of his animal friends Bagheera and Baloo, and the fearsome menace of the villainous Shere Khan. Voiced by an all-star cast including Bill Bailey, Richard E. Grant, Colin Salmon, Tim McInnerny, Bernard Cribbins, Celia Imrie, and Martin Shaw.
From empresses to outlaws, and astronauts to activists, Good Night Stories for Rebel Girls 2 is a collection of 100 biopics about history's greatest women. It's an excellent choice if you're looking for something that's informative, inspirational, and entertaining. This one's another that's narrated by a star-studded line up including Alicia Keys. The first Good Night Stories for Rebel Girls is well worth a listen too.
Plodding hours spent in the backseat of a car humming along a grey motorway are enough to quell even the most ecstatic of going-away excitement. And as parents know, boredom creates restlessness, and restlessness creates aggravation. But 6 hours and 44 minutes of black spots, old maps marked with big red 'X's, and one-legged pirates should be more than enough to remind any child (and any parent too) that they're heading off for an adventure.
The spritely prequel to the more mature Lord of the Rings series. J. R. R. Tolkien wrote The Hobbit for his own children and infused its pages with the speed and excitement of youth. Featuring Middle Earth's familiar hobbits, elves, dwarfs, wizards, and goblins, with added brain teasing riddles and a treasure-hoarding fire-breathing dragon. Every chapter reads like its own mini episode. Perfect for stop-start listening.
That should be more than enough to keep both you and your kids entertained, no matter how long you're planning to be on the road. And if you're planning to buy a new tent to take away with you, then have a read of our guide to the best tents for families on a budget from independent camping shops.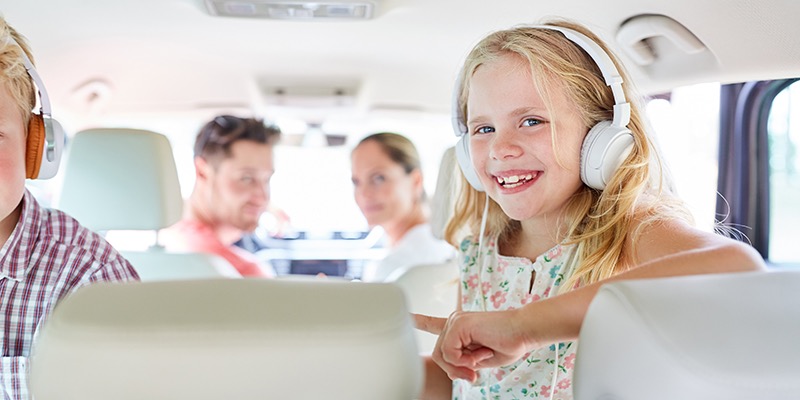 That should be more than enough to keep both you and your kids entertained, no matter how long you're planning to be on the road.