Though part of the fun of camping can be roughing it a little, there's also no question that modern gadgets can add to the experience by providing a little convenience, luxury or novelty when you need it.
Here are some of our favourite camping gadgets for 2020 that might be worth bringing along on your next trip.
Let's face it, even when you're getting away from it all, it's hard to do without the phone, tablet, or other battery-powered lifeline. You can always bring along a spare battery pack but that will inevitably run down too. Why not instead bring a solar-powered charger and draw power from the summer sun itself?
The Anker PowerPort Solar is a fantastic solar charger which is portable, durable and lets you keep all your gadgets topped off on the go, with a fantastic fast charging speed – definitely a necessity for those who want their modern conveniences.
Humans have been using fire to warm themselves up, cook food and boil water for longer than recorded history... and now you can even use it to charge your phone.
The BioLite Campstove 2 Wood Burning & USB Charging Camping Stove blends a traditional campfire with modern technology to produce a wood-burning wonder. Fuel it with sticks, wood scraps or special biofuel pellets and you can use the flames to toast your marshmallows or boil water and grill food with the additional CampStove 2 bundle, while the power generated can be put to good use charging your devices – you won't want to be without it.
You won't have to go without your music on a camping trip when you bring along this handy portable speaker. With a 13-hour battery and Bluetooth connectivity, it's easy to set up and keep going for as long as you're looking to enjoy your tunes.
This durable little camping gadget is also completely waterproof (IP67 rated), so leaving it in the rain or even dropping it into a pond is no problem (it floats, too). It also boasts an Outdoor Boost feature which sets the sound up perfectly for outdoor listening, and for a full-on stereo experience you can easily pair it with a second speaker of the same type. No music fan will want to miss out on this one for their camping trips.
For anyone who can't go without their coffee and doesn't want to settle for second-best (that is, instant coffee...), this portable espresso maker is an absolute necessity when heading off on a camping holiday. Using Nespresso Original capsules or any other compatible brand, all you need to do is add hot water and give the foldable pistol a few pumps to produce a tasty espresso (add more water afterwards to enjoy an americano instead).
If you can't start your day properly without a steaming hot brew, this is definitely the camping gadget for you.
Maybe it's not the most exciting gadget to bring along with you, but while these handy little LED lights may not thrill you to look at they provide functionality you can't go without. Perfectly portable, suitable for hanging in your tent or on your bag or just holding in your hand, these durable water-resistant lights will last a long time on a set of AAA batteries.
The lights come three in a pack and have three different modes: full brightness, half brightness, and flashing. Don't get too distracted by the flashier gadgets on this list to remember to pick up a set before you go!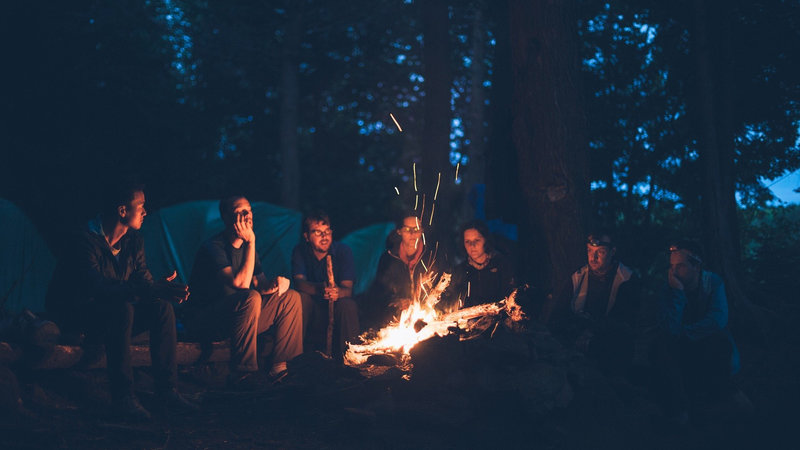 We think these are some great camping gadgets likely to appeal to any camping fan. Whether for comfort, convenience, or just general enjoyment, it's worth taking a look at them before your next camping trip!