There are always new gadgets and products being released that make camping or caravanning easier, more convenient, or just more fun.
Some of them you can take or leave, but there are other great must-have gadgets that you wonder how you ever did without. Here are a few of our favourites.
Most people would laugh at the idea that you could use sunlight to cook food outdoors in the UK, but the GoSun Sport is so efficient that solar-powered baking, roasting, steaming and more are all within your grasp. This amazing solar grill uses ultraviolet heat to cook the food inside it to perfection, and functions as long as there's enough sunlight to see distinct shadows on the ground.
All you have to do to use it is slip the food to be cooked inside the handy tube, slide it inside the cooker and let the solar reflectors do their work. It's easily portable and it doesn't heat up on the outside, either, so there's no risk of burning yourself.
Many people find an inflatable mattress is practically a necessity for a comfortable sleep while camping, but blowing it up in the first place is rarely an easy or enjoyable experience. One great way to do it that doesn't rely on batteries or external power but also won't call for excessive lungpower is the Jet Stream Pump Sack from Sea to Summit.
This efficient mattress pump operates like a concertina, with one-way intake ports making it easy to draw in the air which you then push out through the central valve into the mattress. Each downward stroke expels more than a lung's worth of air, ensuring the mattress will be pumped up to size quickly and preventing moisture buildup inside.
Despite its robust construction, this pump couldn't be more convenient for travel. It can fold down flat for easy transportation, or can even be used as a bag to carry your deflated air mattress or other camping gear – they've thought of everything!
When you're on a caravan holiday, space can be at a premium, and particularly so if you're enjoying potentially messy outdoor activities with leisure equipment that might end up muddy, sandy, or wet from countryside exploration or visits to the beach. If you don't want mucky bikes, folding chairs and other such items cluttering up the caravan, the CaveInnovations CampaCave is the perfect solution.
This tough, secure tent provides a portable form of holiday storage that's easy to put up and is ideally sized for storing bikes and foldable picnic tables and chairs, with a flap at the back that allows you to lock your bikes to the caravan or another solid object with a cable bike lock for added security. It's useful in other ways, as well – you can pack it up and take it along with you to use as shelter from sun, wind or rain, or leave it behind when you're off for the day to make sure nobody takes your pitch.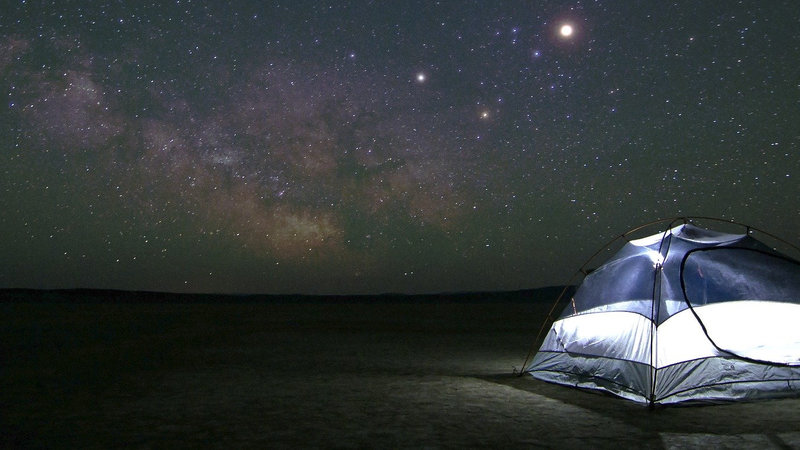 Even if you prefer to stick with a more traditional approach to camping or caravanning, it's hard to deny that these great products and gadgets could make your holiday a lot easier – they're definitely worth picking up for yourself!