Scotland's two national parks, the Loch Lomond and the Trossachs National Park and the Cairngorms National Park, are spectacular areas of stunning Scottish landscape that offer endless amazing sights to experience and enjoy.
Here are a few of our favourite landmarks and vistas that are well worth a visit when you enjoy a scenic Scottish escape.
Loch Lomond & The Trossachs National Park
An Ceann Mòr
An Ceann Mòr at Inveruglas is a special installation which allows visitors to enjoy a truly fantastic raised view of Loch Lomond and its mountainous environs. This pyramid-shaped structure, built from sustainable timber, lets you look out upon the waters of the loch, the Arrochar Alps, and Ben Lomond from a brilliant elevated location eight metres above ground level.
Killin Stone Circle & the Falls of Dochart
If you enjoy the evocative and fascinating sight of prehistoric monuments, sitting alongside the River Dochart at the west end of Loch Tay you'll find Killin Stone Circle. Preserved in excellent condition, this circle is worth a visit if you're interested in history, and the nearby village of Killin is a truly special place itself. It's known as one of the most beautiful places in Scotland, not least because of the Falls of Dochart, a cascade of waterfalls which run through the village.
Lake of Menteith
The Lake of Menteith is widely known as Scotland's only lake (as opposed to being a loch), but it has more to recommend it than just the curiosity of its name. This beautiful body of water is surrounded by some stunning scenery and even has several islands within it. The largest, Inchmahome, is also home to the ruins of an ancient monastic sanctuary, Inchmahome Priory, which you can visit by boat.
Where to stay
If you're looking for somewhere to stay while exploring all the wonders of this national park, Luss Caravan Park is situated on the banks of Loch Lomond and welcomes motorhomes, touring vehicles, and tents, with dogs welcome.
Cairngorms National Park
Loch an Eilein
Nestled away within the gorgeous Rothiemurchus Forest, the body of water known as Loch an Eilein has a name meaning 'loch of the island'. The island which sits within it is indeed particularly notable, being home to the ruins of a mysterious 13th century castle. The exact details of its construction are uncertain but it definitely adds a romantic feeling to this already beautiful location, which was voted Britain's Best Picnic Spot in 2010.
An Lochan Uaine
This amazing loch is a couple of miles from the Glenmore Forest Park visitor centre and is known for its gorgeous green waters which really make it stand out. Take a walk along a forest path through ancient Caledonian pines and find yourself on its enchanting shores – it's well worth the trip!
Where to stay
For a base close to the Cairngorms, Ardtower Caravan Park is the perfect place to pitch your tent or park up your caravan or camper, as well as being conveniently near to Inverness – the best of both worlds!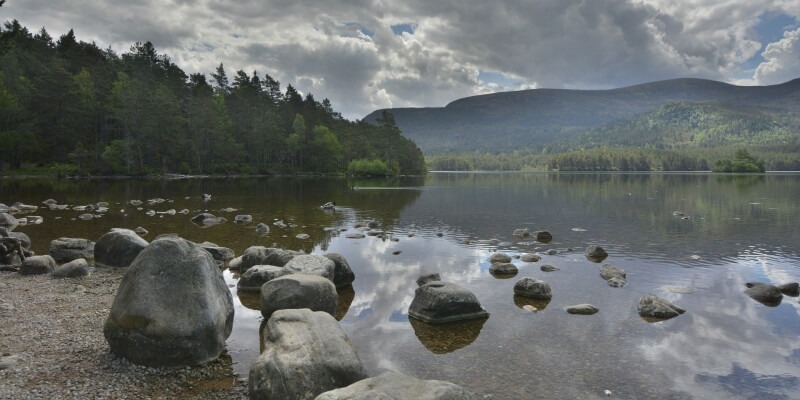 There are countless other landmarks and viewpoints to be discovered within Scotland's national parks – book a Scottish holiday today and enjoy finding them for yourself!