Here's our selection of three of the best family tents by Vango, experts in camping equipment for over fifty years, with top tips on what to consider when buying a tent.
Camping is a beautiful way to feel close to nature and while the location is an important consideration, so too is your choice of tent. Whether you're buying for the first time or upgrading an existing family tent, our pick of the best tents for this year is based on value for money as well as overall quality.
What to Consider When Buying a Tent
While it's tempting to spend as little as possible on a tent, if you want to stay dry, have enough space for a growing family, and a durable tent that lasts, it's more prudent to invest a little more.
There's a dizzying array of tents available with all sorts of features but sometimes just knowing the basics will mean you are more likely to make the right choice. Late summer is also the best time to buy a tent as many camping shops are currently offering reductions.
The most important feature to look for when buying a tent is the 'hydrostatic head measurement' (sometimes seen as 'water column') or HH. This number indicates how waterproof the tent material is - the higher the number, the more waterproof the tent. As a general rule, 3,000+ should stand up well in heavy rain.
The size, shape and weight of the tent can also be important as high-sided and tall tents can suffer in adverse weather conditions and you need to be able to carry it to your chosen location.
Consider the number of separate rooms you will need and whether you would like windows, a sewn-in groundsheet, zipped cable entry points, insect-free ventilation or a a porch, which can be handy for keeping muddy boots out of the sleeping areas. Blackout bedroom fabric is very popular and can help you sleep later on bright sunny mornings.
A good rule for buying a tent is to go a size larger than the person size stated as a growing family of 4 will be a lot more comfortable, for instance, in a 5-man tent.
Air Tents
If you're looking for a large family tent that can be put up by one person quickly then an air tent is the one for you. High-quality air tents will withstand windy conditions and with a good pump, they tend to be easier and faster to pitch than traditional poled tents. Air tents may cost a little more but they will save you both time and effort.
Eco-friendly Tents
One of the most important recent innovations is the creation of sustainable camping equipment. The Earth Collection from Vango uses environmentally friendly fabrics cleverly made from recycled single-use plastics. Buying an eco-tent helps preserve our beautiful planet ensuring our children's grandchildren will get to enjoy camping trips in nature just as we do now.
1 Best Tent for Families up to 4
The Vango Beta 550XL is a 5-man 3-pole tunnel tent offering a generous sleeping area combined with a large, functional porch space for storing camping essentials.
The Beta features a robust eco flysheet (3,000mm HH), made from single-use plastic with Nightfall bedrooms for a better night's sleep, and comes in a carry bag for ease.
This tent has a breathable polyester inner which allows condensation to pass through, reflective webbing that shines in torchlight so the pegging points are easily spotted in low light conditions, and lantern hanging points in the living and bedroom areas.
2 Best Tent for Families up to 5
The Vango Aether Air 600XL is a 6-man inflatable AirBeam® tent in the Earth Collection. AirBeam® technology ensures quick inflation and a sturdy and reliable structure that benefits from spacious queen-size bedrooms with Nightfall fabric to reduce early morning light for a better night's sleep.
Featuring eco fabric (3,000mm HH) made from recycled single-use plastic, the Aether reduces plastic waste from the environment. This tent has a pre-attached extension offering extra living space and a real outdoors feel. Low-level AirZone vents and mesh panels on both the living room doors allow fresh airflow, reduce condensation and keep the bugs out.
The AirBeam® comes with an ergonomically designed double action pump to allow you to inflate the tent plus a pressure dial and a carry bag.
3 Best Tent for Large Families up to 6
The Vango Casa Lux is a large poled tent offering a home from home with an abundance of space in 4,000 HH waterproof fabric with zipped privacy curtains in the living area.
This spacious tent features an enclosed porch with a large door, an extra-large living room and two spacious king-size bedrooms with darkened Nightfall fabric. There is a part-mesh bedroom door for additional ventilation, handy internal pockets for your belongings and lantern hanging points.
The tent comes with an expandable carry bag and is recommended for up to 7 people, with plenty of room to spare; named Casa, meaning home, for its homely feel.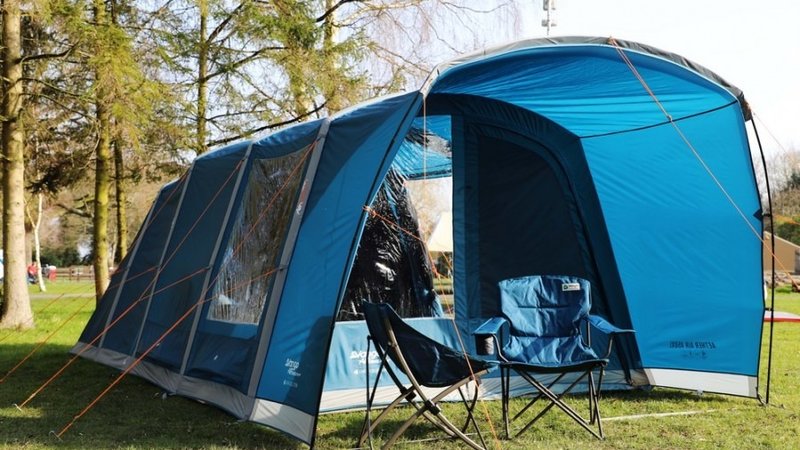 Vango is a renowned Scottish manufacturer of camping equipment established in 1966, known for their high quality and innovative designs.