Ann Somerset Miles and husband Ray find creative joy and heart-warming beauty in South Wales
It was an invitation to the private view of a friend's art exhibition that sparked mine and my husband Ray's interest in Haverfordwest in Pembrokeshire. The exhibition was to be held in a gallery located in what was once an old watermill just north of the town.
If we accepted the invitation we would have to stay overnight in the area: it was a long way – some 195 miles – from our home in Wiltshire. Why not make a break of it and spend a few days exploring the town and some of the Pembrokeshire countryside? Research on the internet revealed Haverfordwest to be a fascinating and historic town, and the whole area a paradise for artists. I decided it was the ideal opportunity to turn my usual travel diary into an illustrated journal, and in preparation for doing so, plastered acrylic paint over every page in a small blank book.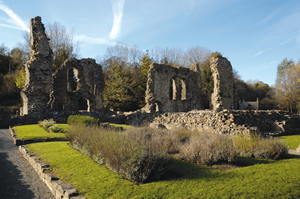 One exhibit refers to the occasion when Admiral Lord Horatio Nelson was granted the freedom of Haverfordwest, in August, 1802
We were up with the lark on a cold November morning and away early, armed with camera and art bag, as well as the usual paraphernalia. We knew it would be a long journey – five hours we estimated. The miles crawled by, passing through, or nearby, so many inviting places, all asking to be explored: if only there was more time. For me, the journey – the scenery and the history that has shaped the landscape through which we drive – is as important as the destination. Departure is all anticipation, arrival the experience of the intervening hours.
As we swept down the hill towards Haverfordwest, we caught a glimpse of the town's 13th century castle, which dominated the skyline. It was like an invitation to explore and I could hardly wait. The site we had chosen, at the Haverfordwest County Showground, took a little finding as the Caravan Club signage was missing but eventually we pitched up, changed into glad-rags and made our way to the Nant y Coy Arts centre and the real purpose of our visit: the exhibition and re-acquaintance with the artist, whom we had not seen for ten years.
Next morning, we woke bright and early to a glorious day, and the journal was underway. Our first port of call was the town, where parking was easy.
Nearby caravan & camp sites
Broad Haven Holiday Park is one of Pembrokeshire's premier holiday …

Commanding beautiful views over St Brides Bay from its elevated …

Redlands is a popular, family park with spacious pitches and …
We went to the Tourist Information Centre for more details on places we wanted to investigate, then on to Victoria Bookshop for books to research the history of this intriguing place, and finally Emrys Art Supplies for extra journaling materials. Everywhere is within easy walking distance. I wanted to visit the old priory: "Just some old ruins," a passer-by remarked when we asked the way.
A charming walk for half a mile alongside the river had us soon entering the grounds through a little picket gate. The Augustinian priory was founded in about 1200 and thrived until Henry VIII's dissolution of the monasteries in 1536. It was warm, brilliantly clear and sunny; not a breath of wind, so I sat in the monastery garden on a low stone wall by the lavender bushes, and wrote. Part of the site has been reconstructed as an apothecary's herb garden with plants that would have been used by the monks to tend the sick: alchemilla, bay, borage, calendula, chives, columbine, fennel, feverfew, hyssop, lavender, mint, rosemary, sage and thyme.
Back at the van, we started to think about supper over a glass of wine with melon and Parma ham. We cooked lambs' liver and kidneys with chopped spring onions, bacon and mashed potato. This is one of the activities we both love about caravanning: buying really good quality or local produce and preparing as fine a meal as possible, within reason. We ate too much and sat up far too late reading. We woke late the next morning. We were due in Haverfordwest by 9am, so hurried into town, to the museum where you can discover 1000 years of the town's history. The museum stands inside the castle walls on a really steep, high escarpment, almost a bluff, overlooking the western arm of the River Cleddau far below. The winding narrow streets and pastel-coloured, low, terraced houses are picturesque; I longed to stop and make notes or sketches but it was cold and so blustery, with a damp chill.
We spent a happy morning at the museum meeting volunteer assistant, Morag Evans. We chatted about photography, websites and computers – and of course books – and were given free access to all the rooms. Set out in the old Prison Governor's house, the museum is full of historic treasures, and not so large as to be overwhelming. Each room is based on a different theme relevant to the history of the town. One exhibit refers to the occasion when Admiral Lord Horatio Nelson was granted the freedom of Haverfordwest, in August, 1802: "Yesterday Lord Nelson, Sir William and Lady Hamilton, and Dr Nelson and his lady, honoured the town with a visit; nothing could exceed the rapture of the inhabitants of every class on the arrival of the Hero who had achieved so much for his Country; the horses were taken from his carriage, and he was drawn through the streets by the populace." Many Pembrokeshire people served in Nelson's navy so there was always a link between the county and the man.
Museums 'open new doors with old things' but following a foot trail of actual places where people have lived and worked allows the visitor an insight into what made a place tick. Walk the 'Haverfordwest Plaque Trail' and discover 28 memorable locations for yourself. Start at The Quays. It was here – the upper tidal limit of the river, more easily reached by sea than road – that made an ideal settlement for early Norse invaders and subsequently numerous traders from farther afield.
We walked down the steep streets to find St Mary's Church. Back in the 1920s, Ray's father – a highly skilled woodcarver in his time – had made the pulpit, which we had never seen. While Ray spent an hour photographing it from every angle, I bought gift tags and paper serviettes from a charity stall. Sadly, there is no mention of his father's name in the church records; too often, dedicated craftsmen remain faceless, nameless artisans.
Food was our next priority: we made our way back to the Riverside Market, to the only food stall normally open during the week: that of Albert Rees, who sells hams, cheese and local pork. Supper would not be a problem. "You should visit when the fortnightly Farmer's Market is in session," we were told, when enquiring about other fresh food stalls; but that is of no help if your visit does not coincide. So, it was over to Morrisons supermarket to buy fish for haddock pie with parsley sauce and a fish and chips lunch in the supermarket's restaurant – it's a favourite of ours in the Morrisons near home and the nearest thing, in our opinion, to Whitby fish and chips, with the fish straight from the sea.
We had explored much of the town's local history in the last two days, so we decided upon a change of scenery and drove north into the peaceful countryside; exploring small hamlets on our way to a traditional woollen mill on the A487 Fishguard to St. David's road. There has been a mill on the site since the 1800s but Melin Tregwynt has been under the ownership of one family since 1912. Local farmers used to bring their fleeces to be washed in the nearby stream, then spun and woven into wool blankets for their families. We were the only visitors, so the workshop was opened just for us and we were left to our own devices taking photos of the machinery and old water wheel, which we could not have done had the mill been operational. We drank coffee and ate local toffee waffles – quite delicious – in the café.
I came away with fabric offcuts to add to my journal.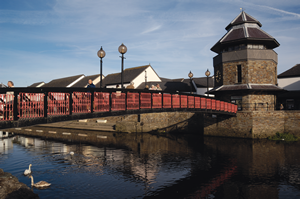 It was here – the upper tidal limit of the river, more easily reached by sea than road – that made an ideal settlement for early Norse invaders and subsequently numerous traders from farther afield
Overnight, the weather changed; it was raining, sheeting down in fact. We were totally alone on this part of the Haverfordwest Agricultural Showground. The airfield was in front of us, so that on a clear day we could see across its open space towards the 'foothills' of the Preseli Mountains (in Welsh, Mynyddoedd Y Preseli): smooth, ancient, worn-down folds with immense rocky outcrops which yesterday had caught the early morning sun. The airfield – windy as airfields always are – took us back to our flying days, when we would have a tent or motorhome pitched alongside the runway for early morning sorties when the wind was calm. From our pitch we watched a twin-engined plane complete its final engine checks before taking off in a 20knot crosswind. Heavy use of left rudder pedal, lift off; the drift immediately was enormous. We went to the airfield for a briefing with Fly Wales and Helicharter Wales about the scenic pleasure flights they both provide. We would dearly love to be back in the air, enjoying one of the tours offered, seeing villages, fields and coastline spread beneath the aircraft, but the weather was abysmal. We climbed the control tower, for the field was by now deserted, and learned that the Ministry of Defence established the airfield in 1941 for use by RAF 17 Group Coastal CMU. I spottedan old poster on the wall which says it all: "Fly the World – above the crowd". Absolutely!
Eventually the weather front moved through and the rain stopped. We headed up into the Preselis, winding our way above deeply cleft valleys, well-wooded and criss-crossed with rivulets tumbling their way seawards: mysterious and beautiful. In our younger days, we would be striding off to one of the high rocky crags. Instead, we watched the sunset until dusk fell. We guessed at our way back to the van: map-reading OS charts in the car is difficult at night…
Being so near the sea, I was keen to go beachcombing during our stay. So, we headed first to Fishguard, for Ray to photograph the ferry leaving for Southern Ireland, while I walked the harbour shoreline gathering limpets to dangle from book strings, slate blue mussels iridescent with bright cobalt, tiny cockle shells, and black bladder wrack seaweed. Somehow I will incorporate these into my journal.
Having driven north for half an hour to reach Fishguard, I persuaded Ray to make the long drive southwest to Little Haven, for no other reason than that I had liked the look of it when surfing the internet. I am so pleased we did: for the steep streets, with pastel-coloured cottages all snuggled down higgledy-piggledy in the precipitous sheltered rift in the cliffs, are beautiful. It was blowing a gale but off I stomped in riding mac and waterproof boots to the tiny harbour. I took a photograph, but could hardly stand for the wind, so searched instead for flat tiny pebbles on the beach. Collecting journal artifacts is fun; I am never quite sure how it will all pull together and what I will include or what I will have to leave out.
On our last day we couldn't resist returning to Nant y Coy Art gallery where we began our short holiday. Nant y Coy is pure magic: I would return to Haverfordwest just for that alone. It is so peaceful: a converted water-driven mill – the wheel still turns in the mill-leet fed by a cascading brook – set in a wooded valley, with its own nature trail. I followed part of this and sat sketching, until I was so cold that I craved food and warmth. Inside, it was welcoming and cosy. Upstairs is the exhibition gallery and downstairs are the gift shop and workshop classrooms. The restaurant serves the most superb food. I recognised what I thought sounded like the voice of Gryff Rhys Jones, and when I turned round, it was! I chatted again to our artist friend, Rosemary Holcroft, and asked her what it is about the area that draws so many gifted crafts people: "the space, the scenery, the genuineness of the people," she said, "and the freedom to be a creative individual."
Next morning, we set off for home. During the long drive, I reflected on our time away. There was, as ever, the fascinating experience of discovering somewhere new; from knowing nothing to feeling comfortable in strange surroundings, being able to find one's way around. I admired so many things in this part of Pembrokeshire: the ancient landscape with empty roads; the friendliness of everyone we met, their willingness to talk; their courtesy and obvious pride in whatever job they were doing, from the supermarket checkout girls to the charter pilot flying vital, life-saving transplant organs through the night. Will we return? You bet: there is so much history and culture still to explore. Meanwhile I had my journal to complete: a vivid reminder of our short and unexpected holiday. As to how all my scribbled notes evolved into an illustrated hand-made book, well that's another story.