The most popular attraction in the North is an amazing experience.
Take a look at what is around.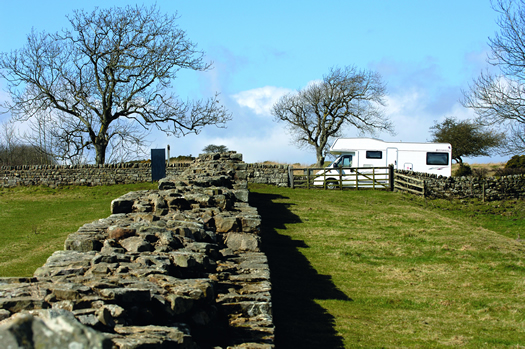 Nearby caravan & camp sites
Sandhaven Caravan Park is a popular holiday park found in the …

Whitley Bay Holiday Park can be found on the north east coast …

Lizard Lane Camping & Caravan Site is a popular site on the …
Hadrian's Wall winds its way along 80 miles of breathtaking English countryside, from Wallsend in the east to Solway Firth in the west. With its wealth of extraordinary Roman remains along the wall's length it's a terrific touring destination. A good starting point is Segedunum (meaning 'strong fort'), which is to the east of Newcastle town centre. It is a combination of visitor centre, museum and historic site. A lift takes you up to a viewing gallery, several floors above the site, allowing you to get a real idea of the layout of a Roman fort.
Corbridge
Due west is Corbridge, on the outskirts of which is a Roman site that pre-dates Hadrian's Wall by 40 years. The site of Corstopitum was used by the Roman governor of Britain as a staging post during a failed attempt to conquer Scotland. The town has two main streets and a market square, with buildings dating from the 1500s. The town of Hexham is worth a detour. Its covered market in the main square is a great place to pick up a good book or some fine local produce. The town's gaol is the oldest recorded prison in the UK and has been frightening tourists for centuries.
Vindolanda
Further west is the site of Vindolanda, which is under continuing excavation by volunteers. It is a fascinating place to visit and you, too, can volunteer – although you will need to book a year in advance.
Carlisle
The city of Carlisle is useful for stocking up on supplies for a visit to the final, most westerly, stretch of the wall at Bowness on Solway where you will discover the official start-finish point of the Hadrian's Wall Walk. However you decide to explore the wall, either behind the wheel or on foot, there's no doubt you'll be impressed with this marvellous feat of Roman engineering.