Aberdeenshire has a rich seam of castles, allowing Christine and Alisdair Lyle the chance to for a glorious visit to 12 fascinating sites in just a four-day tour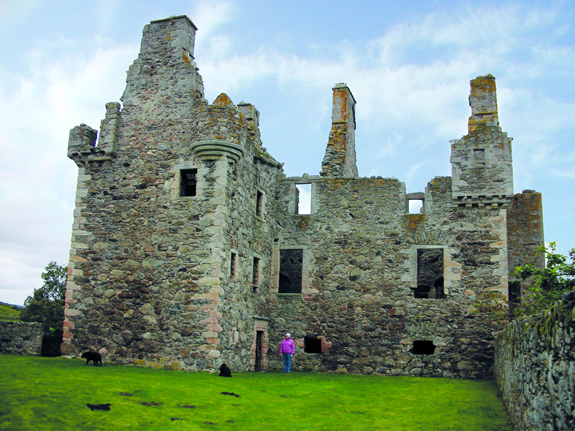 Take a look at their journey!
We have an old map, a very old map, that shows us all the old castles, fortified houses, forts and various strongholds throughout Scotland. One of the richest areas for these lies, surprisingly, in Aberdeenshire. It's an area of Scotland that can easily be overlooked as a place to visit. It's more inhabited than the west coast but the rolling countryside is still very beautiful.
Nearby caravan & camp sites
This beautiful 40-hectare woodland park on the banks of the River …

Great caravan site near Aberdeen with excellent facilities on …

Natural wildlife caravan park in beautiful Deeside. Luxury caravans …
With such a concentration of castles in one area, it would be easy to explore a number of them in one trip. We had just four days, so in order to get round all that we wanted to see, we plotted our route each day with great detail. Many of the buildings we knew were just ruins, while others would be great structures. Some would not be true castles – just fortified houses – and many would not have seen any battle action at all, while others would have fought for their existence.
We found that one of our chosen piles had a caravan park very close by. This was perfect. Huntly Castle Caravan Park is a Caravan Club affiliated site and is beautiful. It lies in 15 acres of landscaped grounds but is just five minutes' walk from the town centre. It made the ideal base for the area we wanted to explore. The site is also a good place to pitch if you want to follow the Malt Whisky Trail. Half of Scotland's distilleries are in this north-east corner.
Huntly town is lovely and typical of the area; most of the buildings are built of granite. There's plenty to do and see in the town centre: along with the shops, restaurants and cafés there is the Brander Museum where you can catch up on local history. We discovered the most amazing hardware store in the town square where we found some quirky household items. Just north of the town was our start point – Huntly Castle itself.
Having got the caravan parked and everything connected up and running, off we went to explore. The castle stands very close to the town on the banks of the River Devron in lush park grounds. Its history spans from its origins as an early Norman fortress to the 17th-century palace built by the Gordon family. The remains of the 12th-century motte and bailey, the Medieval "L" plan tower house and the defence earthworks of the Civil War are all still visible.
The splendid carvings around the doorway and fireplaces are very special to this castle. Although the castle is mostly in ruin, we thoroughly enjoyed exploring it: there are lots of lovely stairs and rooms to look round.
The next day we headed south out of Huntly towards Banchory to seek out Craigievar Castle. William Forbes built Craigievar in the early 17th century and it continued as the family seat until it was given over to the National Trust in 1963. When the castle was handed over, it was complete with most of its contents, which were collected and looked after by the family over the centuries. It's a 'fairytale' castle and a classic example of the Scottish Baronial style. It stands seven storeys high with turrets, crow-stepped gables, conical roofs and pink walls. I had really looked forward to seeing inside this one but, unfortunately, the castle is closed during 2008 for renovation. We shall be back to explore Craigievar another time.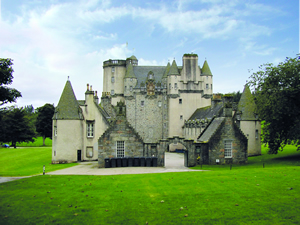 Castle Fraser is said to be haunted
Continuing along the A93 and just the other side of Banchory we found Crathes Castle. Pepper-pot turrets and a square tower distinguish this 16th-century tower house, which stands on an estate granted to the Burnett family in 1323 by King Robert the Bruce. He is also said to have presented the family with the Horn of Leys, which can still be seen in the Great Hall today. The horn symbol has been incorporated into the family coat-of-arms and can be seen everywhere around the castle. Among its most fascinating features are the painted ceilings and the writing along the beams. One of the guides suggested we lay on our backs on the floor to read the text. It is written in English but of a much older form than we know; it was fun trying to make out the meaning of the strange words. The gardens are really special, too. Some of the huge yew hedges were planted in 1702.
We headed back on to the A93 towards Aberdeen to find Drum Castle, the home of the Irvine family since 1323. It's a jumble of a medieval tower, a Jacobean mansion house and several modern additions by Victorian lairds. The antique furniture and paintings have been collected by 21 generations of the family. There's a Garden of Historic Roses, which is just beautiful. I thought this a very homely castle, and one of the guides spent a lot of time regaling us with all sorts of very interesting information on the castle.
We drove on to Peterculter where we turned left to go up to the A944 to visit the last castle of the day, Castle Fraser. Work began on the castle in 1575. There is a rather splendid approach to the building, which looks very grand with its crow-stepped gables and turrets on the baronial tower house. It is said that the ghost of a murdered princess haunts the Green Room but I found the simple Great Hall gave me a great sense of life in this magnificent house.
Next morning started bright and clear but with a very cold wind blowing. Now if any of you tune in to Terry Wogan's morning show on BBC Radio 2, you will be familiar with the road that runs from Cock Bridge to Tomintoul starring in the traffic reports. Well that's where our first port of call was located: Corgarff Castle at Cock Bridge. This area is right on the edge of the Cairngorm National Nature Reserve – very beautiful but rather exposed.
This castle really has had to work for a living: it's a very real, if small, fortification. It was originally a 14th-century tower house but was remodelled as a fortified military barracks with unusual star-shaped ramparts. It played a prominent part in the Jacobite risings and its last military role was to house the Redcoats who had the very unpopular task of combating whisky smuggling.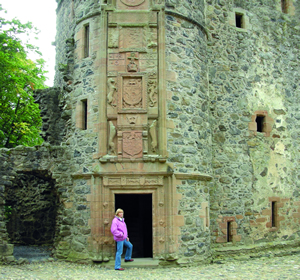 Carved frontispiece to Castle Huntly entrance.
It was so cold up at Corgarff, we just had to find somewhere to warm up. On the way back to Strathdon we found a lovely tearoom and had one of the best cups of coffee I have tasted, along with the freshest scones and jam. The little shop was fascinating and I admit to spending a bit more than I should have. Goodbrand & Ross was the name of the tearoom, although no name is displayed outside. But the little wooden building stands alone so it is easy to find.
Just after Strathdon, up on the hillside on the left, lies the ruin of Glenbuchat Castle. Built by the Gordons in 1590, it is a fine example of a Z-plan tower house. Although this had originally been built as a home and despite various alterations, by 1738 it was no longer the dwelling place of the gentry and by the 1840s it was abandoned altogether.
Next to come was the great Kildrummy Castle. It is a complete ruin but the sheer size of the site is very impressive. It was built in the mid-13th century for William, 9th Earl of Mar and is probably one of the most ambitious medieval fortifications erected in Scotland.
It was a curtain-walled castle with four huge round towers, a great hall and a chapel. It was the scene of a great siege in 1306 in which Neil Bruce, Robert the Bruce's brother, was captured. The blacksmith set fire to grain stored in the great hall causing the fire to spread throughout the castle, and the garrison had to surrender. It has had a very colourful history and was finally dismantled after the 1715 rising. I know both of our dogs enjoyed snuffling around the ruins with us. This has to be listed as my favourite castle.
The last castle of the day was Balvenie Castle near Dufftown, which sits beside the world-famous Glenfiddich Distillery. Although this castle is also in ruins, it is easy to see what a fortress this once was with its high strong walls and double iron 'yetts' (gates). It was built around the 13th century and was visited by such notables as Mary Queen of Scots in 1562 and received the successful Jacobite troops after the Battle of Killiecrankie in 1689. After a good look around the castle, we just had to pop next door to the distillery's visitor shop to sample the wares.
Another bright, sunny day dawned for our last day's exploration. This time we headed towards Oldmeldrum to find the home of the Forbes family at Tolquhon Castle. Tolquhon is a charming castle although strictly speaking it's more of a fortified house. Again, it is mainly ruins but they are well maintained so it's very easy to see where everything would have been. At the entrance to the gatehouse there is an inscription:
All this warke excep the auld tour was begun
by William Forbes 15 Aprile 1584 and endit
be him 20 October 1589
It is said that William was a most enlightened
and educated man and he saw to it that
Tolquhon was one of the first castles to have
glass in the windows.
The elegance of the place is visible today. I was particularly taken by the bee-boles – 12 square recesses in the Pleasance Wall where beehives would be kept. Of all the castles we visited on this trip, this was Alisdair's favourite.
We spent quite a long time at Tolquhon so by the time we moved on it was getting near to lunchtime. The 'Laird's Kitchen' at Delgatie Castle had been strongly recommended, so we made that our next stop. Lunch was first class and good value for money.
The layout of this fortified house is very different. The house is built around one mighty turnpike (large, stone, spiral) stair with rooms off at many different levels. It contains an astonishing array of artifacts, paintings and armoury, painted ceilings, Victorian clothing and china, but the building has an air of neglect. It was fascinating but at the same time a very sad place to be.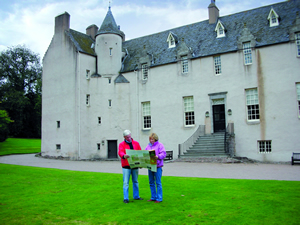 Fyvie Castle is magnificent. When we visited, the wedding of a member of staff was taking place. A lot of time is needed to see it all; it is just beautiful.
Fyvie Castle, by contrast, was vibrant. It was once a royal stronghold and has five great towers, each one named after the families who have owned the castle at some time or other; Preston, Meldrum, Seton, Gordon and Forbes-Leith. There are a lot of ghosts and folklore attached to Fyvie and its 800-year-old history. The labyrinth of rooms and passages are stuffed with opulent Edwardian furnishings and there's a great spiral staircase that rises up through five floors. Fyvie also has an excellent art collection and it boasts one of the largest private collections of works by Scottish artist Sir Henry Raeburn (1756-1823) in the world. It is magnificent. When we visited, the wedding of a member of staff was taking place. A lot of time is needed to see it all; it is just beautiful.
It took us four days to visit 12 castles, although we only went round 11, and there are still more to see.
As to the question of why there are so many in this part of Scotland, I have not been able to get an answer. It is a lovely part of the world and we plan to return soon.
Our visits were made all the more interesting by the guides in these ancient castles. Their willingness to communicate all they have learned about their particular building added greatly to our enjoyment and brought to life the history of these incredible structures.