Enjoy the rich diversity of experiences to be had in the south of the Lakes. Andrew Freeman reveal what to do.
Contrary to popular opinion about the area, Lake District is not only all about hill walking - it has quite a few brilliant family attractions that you and your kids will enjoy.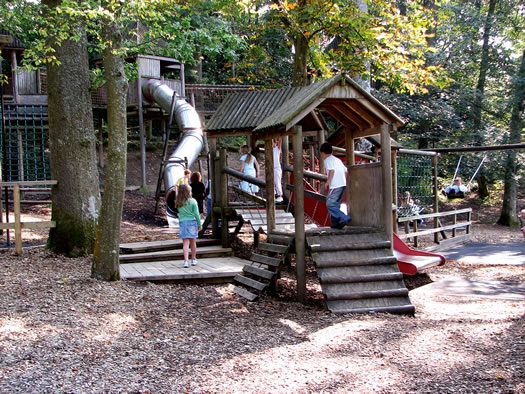 It's all too easy to see the Lake District as little more than a honey-pot destination for hardened hill walkers willing to brave wind and rain to follow in guide-writer Alfred Wainwright's well trodden footsteps. But the region has long since realised that those walkers might not only have a caravan in tow, they are also likely to have a couple of kids in tow. And those kids need rather more than a spectacular view to keep them entertained, especially on those days when the weather is doing its best to expand the lakes. Consequently, there is now a multitude of family-orientated attractions around the south Lakeland area to cater for younger visitors, and many of them are 'all-weather attractions'.
Nearby caravan & camp sites
Fallbarrow Park is set on the picturesque shores Lake Windermere, …

The shores of Lake Windermere are the setting for the beautiful …

Watch the sun rise over Windermere and enjoy the magnificent …
Before embarking on any family-fun mission, a quick visit to the tourist information centre in Windermere town centre is essential. It is well worth half an hour of your valuable holiday to browse through the huge number of helpful leaflets there and to talk to one of the advisers. This should whet the kids' appetites and you will probably be bombarded with multiple "Dad, can we go there?" requests, such is the range of places and activities. Also, if you plan to take a boat or train trip (most visitors do), or get around by bus (perfectly feasible), then this is the best place to find all the timetables under one roof.
We began testing the 'family fun-ness' of the area with a visit to The Lake District Visitor Centre at Brockhole. This is only two miles north of Windermere and accessible by road, rail, bus and boat (there is a jetty for lakeside steamers within the grounds). The Centre is operated on a 'pay-to-park–free-to-visit' basis and is fully accessible to wheelchairs and pushchairs. This was good news for us because we had our one-month-old baby with us. There is a wide variety of things to see and do here, and we started by wandering around the two floors of exhibits and fully interactive displays all about the Lake District. Our particular favourite was the video trickery that gave us a 'magic-carpet ride' over the Lake District – adults: beware that you are on display to the general public via a monitor, so it's best to save the superman impressions for another time…
There is also an excellent electronic, video-based quiz about the Lake District, complete with buzzers and an automatic scoring system. Overall, the centre gives visitors an educational insight into the economy, environment and ecosystem of the Lake District but wrapped up in an entertaining family-friendly package.
We also spent some time exploring the superb and extensive grounds, which are populated with many unusual shrubs, trees and flowers. Eventually we made our way to the very large, well designed adventure playground; a real highlight for children of all ages. Your correspondent had to have a go on the brilliant ropeway – purely in the interests of ensuring child safety, you understand.
All of this cerebral and physical activity generates an appetite, and the on-site café offers a good range, often made with ingredients grown locally or within the grounds themselves.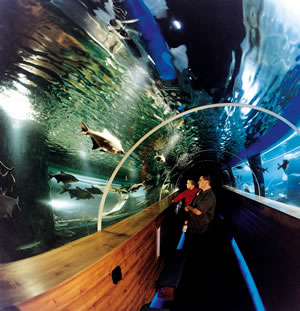 Get up close and personal with lakeland marine life at the Aquarium of the Lakes.
No visit to south Lakeland is complete without a lake cruise. This is where your visit to tourist information will pay dividends because, with a bit of careful planning, you can entertain the entire family for a full day. We combined a cruise on Windermere with a visit to the Aquarium of the Lakes and a retro-style steam-train trip to Haverthwaite on the Lakeside and Haverthwaite Railway.
We started our day at Bowness because it is conveniently situated halfway along the lake, and steamer services to Lakeside and Waterhead depart from the pier there. This lovely, bustling little town is a family-fun destination in its own right, and offers plenty of activities that will appeal to all age groups. As well as taking one of the scheduled cruises, you can also hire your own motor boat or rowing boat from here. With a six-year-old and a one-month-old to think about, we decided we would rather be chauffeured, and so opted for a combined ticket that includes a return cruise trip, entry to the aquarium and a trip on the steam train to Haverthwaite. This combined ticket is by far the best-value way of enjoying these three essential attractions, but other combinations are available.
You can, of course, just pay as you go, but beware of the costs where families are concerned!
The lake cruise really is a great way to start and end your day because it is so relaxing. We knew we would not be fighting traffic and could sit back and enjoy the fabulous views. Our little girl was just as excited to be on a boat and it was 'buggy friendly' too. The boats also have covered lounges that provide snacks and drinks.
After arriving at Lakeside we made a beeline for the Aquarium of the Lakes. This is a freshwater aquarium that puts the accent on ecology as well as marine life. There is an excellent otter habitat, and a wide variety of other environments recreated so that you can see dormice, water voles, carp, pike and even brown rats. The real highlight, however, is the walk through the transparent tunnel along a re-creation of the Windermere lakebed. If you are handy with a camera you can go home and tell your friends how you scuba-dived to the bottom and took some fabulous shots…
After a wander round the shop and an ice cream from the café, we continued on to Haverthwaite via the steam train, which runs approximately every hour. This is a civilised way to travel, and is handy in that it stops right alongside the aquarium and the lake. Haverthwaite is a pretty little stone village, and at the station you can wander around the various locomotives and exhibits. Overall, this was a great way to spend a relaxing day; there is plenty to hold the interest of adults and kids alike.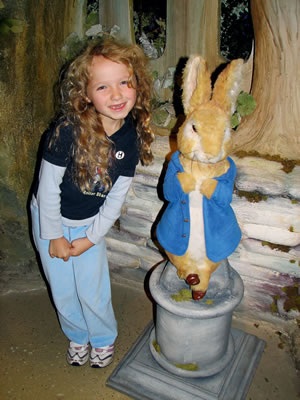 The World of Beatrix Potter
If, however, you're in the mood for something a bit more energetic, then you might want to sample Go Ape! in Grizedale Forest. It's specifically for older children (ten or over) and adults, and is a tree-top-based adventure course of rope bridges, swings and slides that will really get the adrenalin pumping. Unfortunately, both of our kids are under ten and no matter how much Dad sulked he wasn't allowed to go on his own! However, those we saw there seemed to be having a lot of fun, so if your kids are old enough (and you are bold enough) Go Ape! is highly recommended, although we'd advise booking in advance.
Instead of swinging through the trees, we took our younger children to The World of Beatrix Potter, which has recently been improved and extended. Our little girl absolutely loved exploring the various tableaux, which are brought to life with excellent sound effects and even smells. There is also enough in the way of information and displays to keep the adults interested.
In our family, no fun day out is complete without a nice pub meal, yet finding a family-friendly place that serves freshly prepared food is becoming increasingly difficult among the proliferation of identikit chain pubs. A special mention must therefore go to The Angel Inn, Bowness, for the way it manages to combine a family-friendly atmosphere with a touch of style, superb food and attentive service. A large plate of local Cumberland sausage on mashed potato was the perfect way to round off our 'family fun' test of the South Lakes – a test the region passes with flying colours.