Alyson Warnock and friends head into the clouds to climb Wales's highest mountain.
Walking is a splendid outdoor pursuit. A good walk leaves you feeling invigorated, costs nothing more than a little wear and tear on your boots and can be conducted at your own pace. As a walker I know my limitations: I'm definitely more of a gentle-rolling-hills-and-lush-green-meadows kind of walker.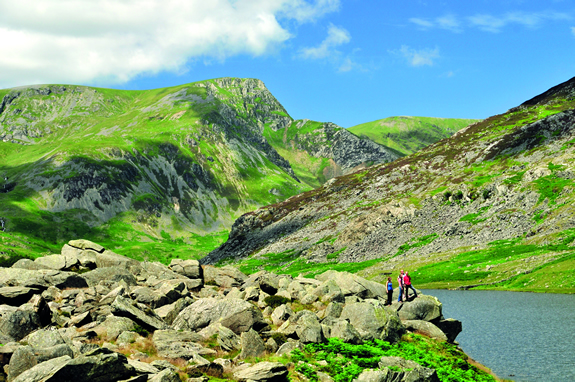 You know the sort: a preferably-with-a-pub-at-the-end-of-it walker. All of which made me wonder why I was sitting in a pub, choosing a path to the summit of Wales' highest mountain. After all, climbing mountains is dangerous, requires a great deal of effort and conjures up images of people dangling from ropes. These are not things I associate with my walking holidays.
At 3560 feet from floor to summit, Snowdon doesn't look like a choice for a weekend stroller. I was in the Snowdonia National Park with my friend Natalie.
Nearby caravan & camp sites
Beautiful park, very close to the local village, located at the …

If you're looking for somewhere to stay on your camping, motorhome …

Snowdon View is a family owned and operated caravan park situated …
Our partners were joining us the following day, so Natalie and I were mapping out an itinerary. Tomorrow, while waiting for the menfolk to arrive, we girls would take a nice stroll around the village of Betws-y-Coed. The following day, we would have Richard and Chris in tow for a more challenging trek in the area around the village of Beddgelert, just south of Snowdon.
But it was day three I was concerned about. Natalie decided we should tackle Snowdon itself. We were in this beautiful part of the British Isles celebrating Natalie's birthday. If the birthday girl wanted to climb a mountain, I could hardly say no. I tried to sound positive.
"I hope there's a good view from the top to make it worthwhile," I said.
"Edmund Hillary never said anything like that before climbing Everest," countered Natalie. "Although he'd probably done more preparation than we have."
I imagine she was right. Up to this point our preparation for this adventure had been just a half-mile walk to the pub, although by the end of the night, we would have doubled that by returning to the site – more if you allowed for a bit of post-pint zigzagging…
Still, the first of our three walks looked pretty straightforward so we settled in for another glass of wine to calm the nerves and carried on studying the maps.
Walk 1: Precipice Walk
Start

National Park car park Saith Groesfford – 2.5 miles north of Dolgellau

Distance

3.5 miles

Time

1.5 - 2 hours
Despite spending the evening in the pub, we felt surprisingly fresh the next morning. We got up early and headed to Llandudno to get groceries before pulling on our walking boots in the car park north of Dolgellau.
We'd chosen to do the Precipice Walk, right in the heart of Snowdonia, because we could combine it with a visit to Betws-y-Coed before we picked up the boys from Llandudno Junction station. The path was well signposted and easy to follow through unspoilt forest, past sheep-dotted fields and along old, drystone walls. It runs along a route first made by sheep and it's pretty obvious that they still use it – we quickly gave up trying to watch where we stepped. Thank goodness we could leave our shoes in the awning on our return.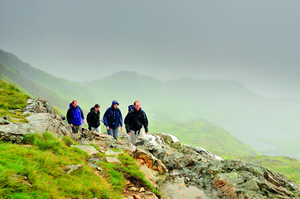 Clouds obscured the view at the top but the sense of achievement was peerless
After 50 minutes we reached the top of the hill and were rewarded with views stretching beyond the surrounding fields and hills to the coast. There was a bench at the top so we sat down for lunch, but just as we did the weather closed in. There was nothing to do but don our waterproof jackets and follow the path down to the car. It was still wet when we finished the walk, so lunch turned into a picnic in the car. With rumbling tummies silenced, we drove to Betws-y-Coed. We had a spare hour before we had to meet the boys so decided to just pop our heads into a few of the outdoor shops. Our timing was immaculate. 'Half-price sale' was written in nearly every window. There's nothing two girls like more than a sale. I picked up some waterproof over-trousers and suspected they would prove a sound investment rather than an impulse buy.
We spent more time shopping than we'd intended and arrived late to pick up Richard and Chris. At first we thought we had missed them, but then we noticed there was a pub across the road from the station. Sure enough, they were enjoying a pint over a game of pool. At least they didn't mind that we were late.
Walk 2: Beddgelert
Start

Beddgelert town centre

Distance

5.7 miles

Time

3-3.5 hours
Saturday morning arrived a little grey and windy, but that didn't put us off our plan of a warm-up walk for the Snowdon climb the following day. The idea was to get a feel of the terrain we would be walking over but without tackling the mountain. We wanted to save our legs for 'the big one'. A valley walk from the village of Beddgelert seemed ideal.
The first mile of the walk was on a footpath. We felt a little overdressed in our boots and waterproofs among the kids on scooters and mothers with pushchairs. The footpath took us past the grave of Gelert, which is where the town gets its name. We hadn't read up on the history, so we expected tales of derring-do. But all we found was a dog.Not just any dog, the sign at his grave assured us. Gelert was the best hunting hound of Prince Llywelyn the Great.
The story goes that one day Prince Llywelyn went hunting without his faithful hound. When he returned the dog ran to meet him, covered in blood. Immediately thinking of his young son, the prince ran to the room to find blood on the floor and the cot empty.
Furious that his dog had attacked the boy, he drew his sword and killed Gelert. In response to Gelert's dying yelp came a baby's cry. It was only then that the prince saw his son, unharmed. Lying next to the baby was a wolf that Gelert had killed. Overcome with remorse, Prince Llywelyn buried Gelert with great ceremony, and is said to have never smiled again.
The truth of the story is tenuous. It was probably made up by David Pritchard, landlord of the Royal Goat Hotel, in the late 18th century, as a way of attracting more customers.
Past Gelert's grave the footpath turned into a rocky path following the river. After a couple of miles we headed away from the river and started to climb a steep hill. It was only a mile or so to the top, and we were rewarded with great views. We also benefited from a downhill run back to the village.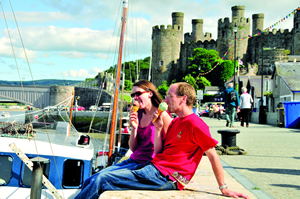 We arrived just in time to see the castle gates being locked, so we consoled ourselves with a stroll along the quayside and an ice cream
We left Beddgelert, worn out and full of guilt-free snacks, with a few hours' daylight to spare. Our route back to site took us past Conwy, a walled town dominated by a castle. Intrigued, we stopped to have a look.
We parked just outside the city wall, then walked along the wall itself down to Conwy Castle – a mighty medieval stone fortress built on a rock overlooking Conwy Bay by King Edward I. We arrived just in time to see the gates being locked – the castle is open until 5pm but last admission is at 4.30pm. We consoled ourselves with a stroll along the quayside and an ice cream.
On the quay we came across a tiny dwelling, which is apparently Britain's smallest house. It was built in the 1600s in a gap between two rows of houses. Obviously sea-front locations were as popular then as they are today.
The 'one-up, one-down' measures just 3.05m x 1.8m (approximately 10ft by 5ft 9in), but despite not having a bathroom or being big enough for a double bed, it was lived in until 1900. The last owner was a 6ft 3in fisherman who wouldn't have been able to stand up inside. You couldn't make that kind of thing up.
The evening was drawing in so we headed back up to the car. Our legs weren't the only things protesting at the uphill walk – we were starving despite all the cake and ice cream. Back at the site, Richard and Chris whipped up a huge bowl of spaghetti. We all tucked in over a glass of wine before drifting off to a very sound night's sleep.
Walk 3: Snowdon
Start

Pen-y-Pass car park

Distance

7.5 miles

Time

5-6 hours
The next morning, remarkably, none of us were stiff or sore from the previous day's exertions. Unfortunately, it wasn't as sunny as we had hoped, but since the clouds had cleared the previous two afternoons we were still hopeful of a good view from the top of the mountain.
It didn't take us long to reach the car park near Pen-y-Pass Youth Hostel where two of the most popular paths to climb Snowdon start. Parking was £4 for the day, and there are public toilets and a café here as well.
Standing beside the car with Snowdon looming over us, we told ourselves that if we were really tired after the climb up we could always take the train back down. But shortly afterwards, Richard then spotted a sign advising that the train wasn't running because of building works on the summit. There goes plan B.
Of the possible paths to the summit, we decided to go up the rockier Pyg Track while our legs were fresh and come back down on the easier Miner's Track. Not five minutes from the car park, we turned a corner and in front of us was an amazing view back down the Pass of Llanberis. You don't get that on a meadow meander. Maybe there's something in these mountain walks after all.
Eager for even better views I took off up the path, but came down again very quickly. The rocky path was very slippery and hard. Once I was back firmly on my feet, the four of us settled into walking a slower rhythm. The path followed a continuous, but steady, climb. Natalie and I soon found ourselves puffed, but the boys were striding ahead discussing the virtues of the home entertainment system that Chris had just bought as if they were simply strolling to the pub. How do guys do that? They hadn't done any preparation for this walk either.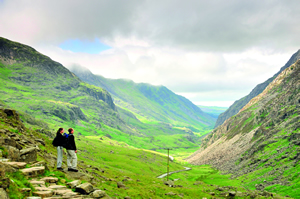 Not five minutes from the car park, we turned a corner and in front of us was an amazing view back down the Pass of Llanberis
By the time the flat-screen TV, Blu-ray player and surround-sound had all been mulled over, we were getting quite high. But the views were getting misty. We all pulled on our waterproof jackets, but before long needed our waterproof over-trousers as well.
As suspected, my sale bargain turned out to be the most sensible thing I've bought in a long time. Soon the views disappeared altogether as we climbed even higher into the clouds and we could only see about 300 feet in front of us. But we began to follow the railway track and knew we were nearing the top. Every rise that loomed out of the clouds could be the summit.
"There's something on the top of that rise," I puffed.
"Is it the summit marker?"
"No," said Natalie. "It's a sheep."
Soon enough we did reach the marker that told us we were at the top. And what about the view that was supposed to make the climb worthwhile? Well, that never materialised out of the clouds. But it didn't matter. I'm sure Edmund Hillary didn't climb Everest for the views.
And in the pub that night, as we celebrated Natalie's birthday and our achievement, even I was talking about which mountain we could climb next.
Other useful resources