Nick Harding takes a rewarding tour of four lovely Suffolk towns in just four days.
There are more pigs than people in Suffolk. That's something the locals seem quite proud of. There are no motorways, either. Nor cities. And, while some of its coastline has become almost trendy, if you stick to touring inland you'll uncover plenty of rural delights. So I set myself the challenge of visiting four sites in as many days.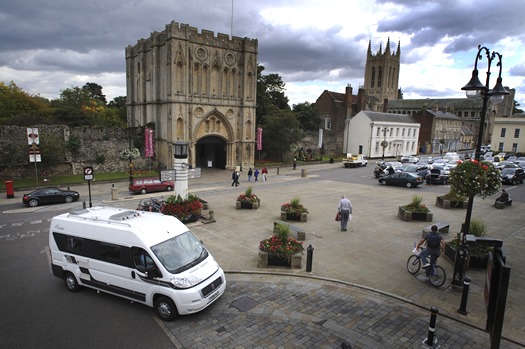 Kicking off with a stop near Wickham Market, where I'd booked in for its annual Alien Encounter weekend. And yes, I did see aliens, as most of those staying there for this rather special event dressed up in costumes for Saturday night. Find out more about this supernatural event and the spaceship landings in Rendlesham Forest here .
Nearby caravan & camp sites
Stonham Barns Caravan and Camping Park is a beautiful, family …

60 widely spaced pitches situated on six acres of level ground, …

Polstead Camping and Caravanning Club Site is a beautiful park …
Sunday saw me checking out the Cherry Tree Inn at Stradishall. At The Cherry Tree, there was just time to enjoy a 'last orders' lunch of delicious roasted tomato soup followed by home-cooked gnocchi. If you like traditional-style pubs with beams overhead and the warmth of open fires, this is a place to note. You can also go fishing here in the small lake behind the pub for £5 a go. I didn't stay here, moving on instead in time for a stopover on the outskirts of Mildenhall – arriving just in time to take a late Sunday walk into the town centre (always a good time to go shopping), then back to base for an evening meal of soup (ready-made, I'm afraid) and baked bread.
I was certainly enjoying the variety of central Suffolk. Monday was another full but enjoyable day, this time I took in the delights of beautiful Bury St Edmunds.
If you want a brief history of Bury, Edmund was king of East Anglia in AD855. A battle with the Vikings led to them trying to get him to give up his Christian faith by chopping off his head (to release his soul). He became a martyr and his body was laid to rest in a small settlement, but the church was considered too small. An Abbey was built, and its ruins are believed to be where Edmund was enshrined. By 1914, the building 'next door' had become St Edmundsbury Cathedral and restoration and development work has been carrying on ever since.
Today, everything is pretty well a-buzz, from the amazing cathedral (Bury would rather not claim city status), Abbey Gardens, and the Nutshell, officially England's smallest pub, to the swanky retail development of what was its livestock market.
I had time to take in lots of the established attractions, such as the Theatre Royal, recently restored to its Georgian style, which is well worth a peek even if you can't get to a show; the Greene King brewery and museum; and Moyse's Hall Museum, which is not afraid to go into some details of Bury's more grisly past.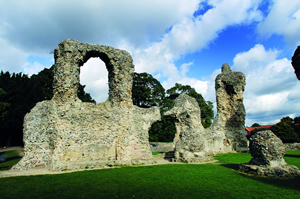 Bury Abbey remains make an atmospheric visit
For independent shops, I was advised to look for a few shops and Lilyo's jewellers was among the fronts that caught my eye. There was even time for a quick pub lunch in the Rose and Crown on Whiting Street. It's the only pub in town that also has an off-licence and was the CAMRA pub of the year for West Suffolk in 2005. Landlords Tony and Liz Fayers are now in their 24th year here.
The variety continued over the next two days, when my visits included locations as diverse as the Chilli Company, Carters Teapot Pottery and the Red Feather Club.
At the Chilli Company, I discovered the reason for my modest success in growing chillis from seed – they like to be warm and moist, and prefer a gritty soil. If you're lucky enough to enjoy a barbecue here, chances are the meat comes from nearby Jimmy's Farm, famed for its burgers and sausages. (And speaking of TV fame, you may have caught the Chilli Company featuring on a Channel Five television series, 'Building a New Life in the Country'.)
The Red Feather Club near Eye takes a bit of seeking out, but if you're interested in WWII, this American army base is well worth tracking down. When I visited it was undergoing some sympathetic refurbishment thanks to a Lottery grant and some real labour of love from local craftspeople – including recreating the bar, complete with some amazing murals, from war-time photos and the construction of a new building as per the original.
In its heyday, there were some 3000 men, (mostly) posted here from America's 8th Army Air Force. It's now under the auspices of the 95th Bomb Group Heritage Association.
There's definitely one other attraction I'd consider a 'must visit'. That's the Museum of East Anglian Life in Stowmarket. Whatever time of year you visit, you'll find loads going on here, indoors and out, in its 70-acre setting. Don't forget to bring a picnic if it's sunny.
As you may have gathered, there's quite a lot going on in Suffolk. I visited in term time, when the kids were at school. I think I caught it at a good time. I hope you do, too.