Sometimes you don't need to travel very far from your front door to find a wealth of interesting places, steeped in history, and great pubs.
Hampshire has a healthy mix of quaint villages, sprawling cities and lush landscape. It's historic. It's beautiful. And, what's more, it's really rather close to me, but for some reason, until recently, I'd never been there. The only explanation I can offer for my folly is that when places are close to home, I get complacent.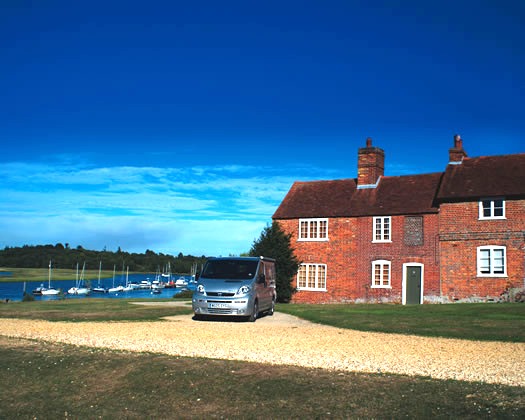 Subconsciously, part of me thinks: "Well, if I've not been by now, I can't be missing much". As it turns out, my foolish inner voice was totally wrong. You see, what's directly under your nose is often easiest to overlook and hardest to appreciate. So, determined not to let complacency win again, I loaded up and cut south along the M3.
Arriving in Winchester, my first stop in the bounteous county of Hampshire, I parked in Chesil Street, and ambled across Bridge Street, catching my first glimpse of Winchester's characteristic cobbled streets. With the sound of the river running below me and shafts of sunshine glinting off its surface, the water made a welcoming entrance to this ancient city.
With its imposing cathedral, famous college and vibrant shopping centre I had various options for my first day out in Winchester. But I knew where I was heading. Where else could I possibly go than directly to King Arthur's Round Table?
Although I'm no history buff I've seen enough animated Arthurs and Hollywood blockbusters to pique my interest, so off I trotted to see the real Round Table for myself. And I wasn't disappointed. It hangs in the Great Hall, at the north-west end of the city, just off the High Street. Made between 1250 and 1280, from 121 pieces of oak, it has a diameter of 18ft and weighs one ton, four hundredweight (around 1219kg). It's huge.
What struck me at first, though, was that the table wasn't quite as majestic as it appears on the big screen: it is decorated with alternating green and white painted wooden sections rather than embossed gold and glittering jewels. But, by being a more humble affair, it retained an authentic air of medieval England and as I stood below it, praying that its wall-mounting brackets were strong and rust-free – it was mightily impressive.
The Great Hall itself has a rich history, dating back to the time of William the Conqueror. According to the informative cards dotted about the Hall's perimeter, it was used for holding courts throughout the city's history. Sir Walter Raleigh was even condemned to death here, in 1603. And there I stood, indignantly, ready to denounce our cruel and callous past when I read the next line and discovered that he was later let off. With this Python-esque bathos still washing over me, I nipped outside into Queen Eleanor's garden. This pretty, horticultural haven sits behind the Great Hall and has been designed in the style of a 13th-century garden. It fits perfectly with the sense of Arthurian England that charms American tourists and pervades the Great Hall.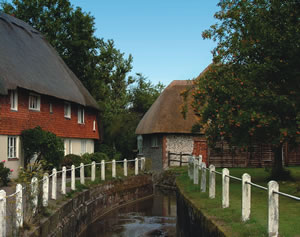 Author Jane Austen's house, next to Winchester College
With so much more to explore in Winchester though, I had little time to rest in the garden. Munching on an ice cream I decided it was only right to finish it before entering the grand old stonework of Winchester Cathedral (tel 01962 857200). Begun in 1079 by the Normans, the cathedral today covers 162m of the city's centre and is a sight to behold. I've seen many houses of God when travelling at home and abroad but when it comes to coupling scale with aesthetics, few can rival it. Inside, the majesty continues and there I stood, feeling pea-sized as I gazed up at the decoration adorning the distant, vaulted ceilings.
Nearby caravan & camp sites
Brocklands Farm is a caravan site in Petersfield, Hampshire and …

This caravan site in Fareham, Hampshire, is an excellent for …

Great base for visiting and enjoying numerous attractions that …
But what I really wanted to see was the crypt. So, after handing over my entrance fee, I made a beeline underground, walking past the novelist Jane Austen's tomb along the way. At various times during the year, the crypt floods and it was with this knowledge that the sculptor Anthony Gormley created his statue, 'Sound II'.
When I visited it stood surrounded by water, which mirrored the sculpture's meditative form. Down in the crypt, with silence filling the empty spaces between the arched columns, Gormley's statue was at once unnerving and inspiring and I found it a beautiful and pleasantly unexpected work of art.
All this spirituality had me thinking but rather than ponder grandiose theological questions I found myself wondering what to have for lunch as my stomach's grumbling echoed around the crypt. The guide book I had picked up from the the tourist office suggested a pub lunch at the Wykenham Arms (tel 01962 853834). This wonderful old pub is just down the road from Winchester College, which I also wanted to visit, so taking advantage of the city's innovative BikeAbout scheme (tel 01962 847474), I picked up a bicycle from outside the tourist office and rode down to the pub.
As I settled onto a comfy bar stool, the décor of this venerable watering hole made its impression: walking sticks and tankards were fixed to the ceiling, while the walls were covered with naval portraits and Union Jacks – it was like being warmly hugged by nostalgia. A glance across the bar revealed one of the good old boys, contentedly propped against the wall, his pipe billowing rich smoke and his admirable whiskers bristling.
As I tucked into my Wyk Doorstep sandwich and necked a cold Guinness, I couldn't help wondering how many of Winchester's elite alumni have whiled away precious hours at that bar. No doubt many of the country's upper echelons and officer class enjoyed slinking out of double maths for a few cheeky pints at The Wyk. Indicative of the boozer's slower pace of life that is enjoyed within its homely confines is the sign which states 'Please switch off mobile phones'.
On my way back to the Torbay Fusion I swung past Winchester College, as well as Jane Austen's old house, situated next door. Keen to get back to the Lytton Lawn campsite, I merely skirted around the school's old outer walls but even from the distance of the perimeter it was obvious that this school was something special. The buildings were akin to an Oxbridge college and from the outside it looked more like a fortified castle than a seat of learning.
The next day, I pored over my road atlas and decided that after my city visit I really wanted to experience some of Hampshire's villages. So, joining the B3407 I made my way to Itchen Abbas but later discovered that I had driven right through it without even noticing, and had arrived in Alresford. I pitched up at The Spinney Caravan Site (tel 01962 732829) for a night and wandered into town.
Alresford (pronounced allsford) is a delightful little town.
I wandered in along West Street before getting a few snaps of the beautifully coloured Georgian town houses that line East Street. Poking my nose into a few shops on Broad Street I slowly made my way down to the old train station, to the start of the Millennium Trail. This mile-long walk takes in the town's wildlife and countryside and is suitable for wheelchair users. I only walked a small section of the trail but the green fields and flowerbeds that buzzed with life made for a thoroughly enjoyable stroll.
Perhaps when Alresford gets liveliest is during the Watercress Festival in May. The area is the country's biggest watercress producer, a fact of which the locals are rather proud. The festival features awards, recipes and cooking demonstrations, and was recently graced by celebrity chef Anthony Worrall-Thompson and cheeky entertainer Keith 'Cheggers' Chegwin.
Inside Winchester Cathedral
If that's not your bag then you can always try out the old steam railway called, predictably, The Watercress Line (tel 01962 733810). It runs over ten miles of countryside and harks back to a more romantic, if eco-nasty, mode of transport.
While in Hampshire I couldn't resist visiting the home of cricket, at Hambledon. I headed off the A272, rolled through East Meon and then joined the B2150 which runs into Hambledon. Having driven through the village twice and not seen the monument, I began to get frustrated but then, about two miles out, I spotted the Bat and Ball pub oppositme, the pavilion was empty when I visited but that didn't stop me from reminiscing about the good old days when we invented sports and trounced those to whom the rules were a mystery. Lost in reverie, with another hazy summer's day drawing to a close, I contentedly sipped a cider in the Bat and Ball beer garden.
The next day I decided to double back on myself and headed in the direction of Petersfield. Nestling snugly in the fertile Meon Valley this old market town was a nice surprise. I was planning on heading down to Portsmouth but stopped off on a whim and, after parking at Tesco just outside the town centre, explored the town square. A statue of William III, complete with Latin inscription, stands in the centre of the square and is apparently meant to echo similar efforts in Rome. To be honest, it doesn't really rival anything found in the Italian capital but it does look grand, proudly surveying the town.
My favourite attraction in Petersfield was The Heath. From the square, walk down the High Street and continue along Heath Road, then turn right at the T-junction along Heath Road West. The Heath is a wonderful public space just outside town, central to which is the big pond. You can walk or cycle around it for a little relaxation or simply sit beside the water and feed the many different types of water bird. Parking is restricted on the narrow streets that surround it, but the Heath is only a five-minute walk from the Tesco supermarket outside which I parked.
What also struck me while I was wandering around the water's edge, was how friendly the people were. An old couple circling the pond in the opposite direction said a pleasant "Hello" to me. A nice change from the usual cold, bustling crowd on my commute.
I was only four miles south of Petersfield on the A3 when I saw signs for the Queen Elizabeth Country Park – the county's biggest (website www.hants.gov.uk/qecp). After preparing dinner I went for a brisk walk, although I didn't cover much of the 20 miles of trails. The park is vast and so is ideal for walking, cycling and horse riding.
Another big attraction for me was Portsmouth. Having never been, I was looking forward to learning more about the city's history. Stepping out of the Fusion, the first thing I noticed was a Union Jack fluttering proudly on top of someone's house. As I turned away, an irrepressible national pride welling up inside, I caught sight of Nelson. Statues of the great naval hero can be seen all over Hampshire and streets throughout the county are named after him. A bronze plaque by the historic docks section of the Portsmouth waterfront was engraved with the words: 'Here served Horatio Nelson, you who tread his footsteps, remember his glory.' I'm a sucker for stirring jingoistic sentiment and stood there, eager to salute but knowing that passers-by would label me either strange or sarcastic. So, thinking better of it, I took a stroll along the seafront.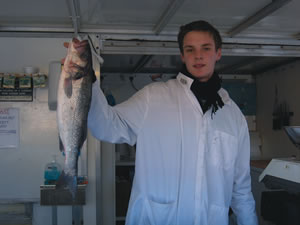 Fresh fish is one of the many treats on offer when you're down by the harbour, in Portsmouth.
The old sea walls snake along the coastline and the council keeps them shipshape – that's clear from the good condition of the walls and the ageing monuments such as King James' Gate, but is also evidenced by little touches such as the benches being shaped like waves. Following the walls brought me to the Round Tower, which you are free to explore. The historic seafront has many great look-out points from which to enjoy gorgeous views and a wide panorama of the harbour. There was one more item on my checklist that I couldn't leave Portsmouth without ticking off: the Gunwharf Quays shopping complex. And, with this in mind I headed towards the shops, via Camber Quay.
Being a big fan of seafood, I was tempted onto the Quay. The fresh, salty tang in the air got me thinking about buttered lobster and mussels, and as the boats chugged into harbour with their catch still wriggling on deck I reached for my wallet. After buying a big fat lobster from East's Fresh Fish, I sought out the reduced bargains at Gunwharf Quays outlet centre. This new shopping complex has just about everything you could want. Well, actually, it had nothing that I wanted but then I was looking for a pair of swinging flares. If you're after specialist clothes it's not much cop, but it does have lots of high-street brands and plenty of places to grab a snack, too.
Before leaving the shops, you should nip down to the waterfront, where you'll see the 170m-tall Spinnaker Tower. When I visited it wasn't too busy so I paid to visit the upper deck and was treated to a special view of ant-sized shoppers, while out at sea hardy fishermen and military vessels cruised the waves. It's worth using the online booking form to get tickets before you go as it gets pretty busy on sunny summer days.
A friend of mine, a Portsmouth FC fan, has a favourite match-day saying: "You'll never defeat the fleet".
Remembering his hopeless bravado, I thought I'd see the fleet of historic ships that lie in the Portsmouth Historic Dockyard. My first stop was HMS Victory, which remains relatively unchanged since the days when Nelson was teaching the French and Spanish a lesson at Trafalgar, in 1805. A ferocious battle, it's amazing that the ship remains today in such splendid fettle.
I didn't have time to explore HMS Warrior but couldn't leave without checking out The Mary Rose. She's the only 16th-century warship that you can see anywhere in the world. Sunk by some uppity Frenchmen in 1545, she was raised in 1982 but her remains have been ravaged by the sea. It is remarkable that the archaeologists have managed to preserve any of the ship. However, I enjoyed boarding the Victory more than merely gawping at The Mary Rose.
If you feel you won't have time to appreciate all three in one day, buy an adult all-inclusive ticket. This gains you entrance to each of the attractions and it's valid for a whole year so you have plenty of time to revisit. Seeing the ships left me amazed at the engineering skills practised hundreds of years ago and I can see why the locals felt you'd never defeat this fleet.
If you want to visit somewhere smaller than the cosmopolitan city of Southampton, aim for Hamble-le-Rice. This quaint little riverside town is beautiful and has a waterfront lined with boats and club houses. With its great location Hamble is used by those yachtsmen who compete in big events such as the Isle of Wight Round the Island Race.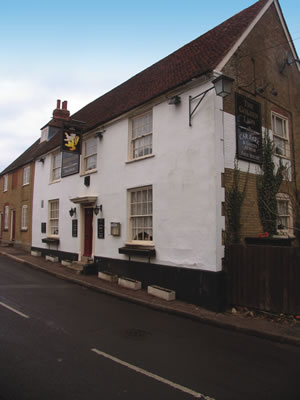 The Golden Lion public house, in Southwick, Fareham, is steeped in military history.
I visited one balmy afternoon and skipped over the River Hamble on the pink Hamble-Warsash ferry. On the other side were a few nice pubs near the marina, but as the sun was still out I made the most of it and wandered along the waterside. Two more of my favourite places in Hampshire are found just three miles apart, along the B3054. First, call in at Buckler's Hard with its museum, pub and hotel. The waterfront is wonderfully pretty and steeped in history, too. Ships including The Agamemnon were built here for Nelson, on board which he lost his eye at the Battle of Calvi in 1781. A short drive away and you're at Beaulieu (website www.beaulieu.co.uk). This is a village in its own right, but I'd come for the National Motor Museum. The entrance fee buys you admission to Lord Montagu's palace and gardens, and if you don't have time to see everything, you can go back for free.
As flowers are not really my bag, I made a beeline for the motors, and I wasn't disappointed.
The first car I came to was a 1968 Citroën DS 21, which is the only car visitors can actually get into. So I did and was astounded by how sumptuous the soft leather seats were. Moving around the exhibit, the range of cars on show was breathtaking. My favourite was the oldest, an 1886 Benz Patent Motorwagen. In 1888, Karl Benz drove this magnificent machine 200 miles from Manheim to Munich for an exhibition, with the car managing a top speed of 9mph.
There are also racing cars, celebrity cars and even cars from TV programmes, such as Del Boy's three-wheeler from Only Fools and Horses, and Mr Bean's Mini. With an interactive exhibit on the history of cars and motorised travel, it's easy to spend even longer there than the two hours that I enjoyed.
Before leaving Hampshire I pulled onto the A33 in order to see what Southampton has to offer. The city centre is similar to most others with its generic high street shops. So, to get a flavour of old Southampton I went to the Solent Sky Museum – past the world's oldest bowling green – in the south of the city, along Canute Road.
The museum traces the history of aviation in the Solent area, including the design and manufacture of flying boats such as the Supermarine. Frankly, there was so much information it was mind-boggling. So, when one of the volunteers working there offered me the chance to climb into the cockpit of a huge flying boat, the kid in me jumped at the chance. This flying boat was once a passenger plane which, having served as a bomber during WWII, was then bought by Charles Blair. He was married to actress Maureen O'Hara, who was once a stewardess on board.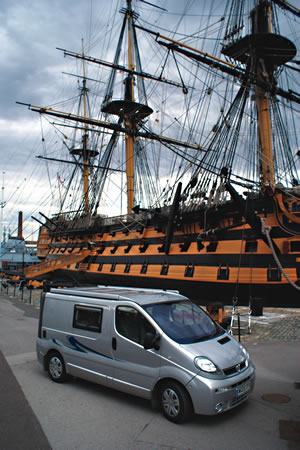 HMS Victory at Portsmouth Historic Dockyard
It was fun in that plane and I was amazed at how roomy and luxurious it was. To me, with my skewed nostalgia, it seemed like it must have been a rather glamorous and exciting time in those days, which I guess it would have been, providing you had enough cash to ride that exclusive plane. After all, being waited on by Maureen O'Hara… that's luxury.
Southampton, nicknamed 'the city of the saints' after Southampton St. Mary's football club, had more to offer but sadly I had run out of time. Hampshire had thrown up many surprises, as I knew it would, and I was sad to leave. Luckily for me, though, I'm perfectly placed to enjoy weekends away among its beautiful villages, bustling cities and ancient monuments.
It's easy to imagine places close to home as being samey or unadventurous. But during my travels I am continually surprised, and constantly entertained, often by areas I'd presumed to know without ever having visited. So go on, dig a little deeper and unearth a treasure of your own.