Stacie Pardoe and Mark Bigault enjoy an exhilarating exploration by bike.
It's surprising what you discover when you go against the grain. Take the Cotswolds, for example. For most people, this region is all about picturesque hamlets, thatched cottages and warm, honeyed stonework.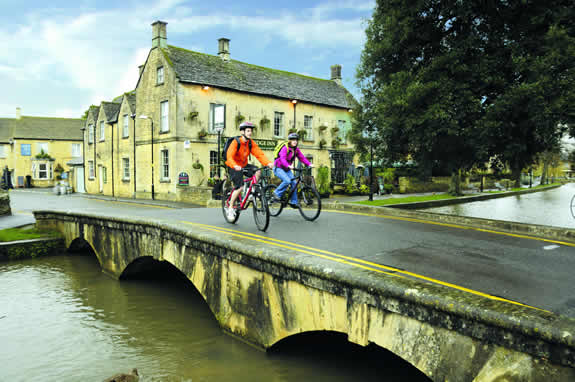 When Stacie and I visited we were happy to see all of this in spades but went in search of something a little different.
Nearby caravan & camp sites
1 acre lawned area with hardstanding and private pitches, separated …

Lovely, small site set in the quiet, beautiful Cotswold's corner …

Great site in an amazing location, marked as an Area of Outstanding …
From the moment we hopped on our bikes and pedalled away from the Moreton-in-Marsh Caravan Club site, we realised there was more to the Cotswolds than charming villages. It's bursting with attractions, excellent eateries and hidden treasures, some of which we stumbled across, thanks to the unrivalled access afforded by bicycles.
If you were to ask me, I would say bikes are the best way to scout out the region. At the beginning of the trip, Stacie, however, was a little sceptical about whether two wheels were actually better than four. But I was determined to show her just how much fun cycling is. We figured that the Cotswolds would have enough attractions to satisfy us, and they were only a couple of hours' drive from base, so we set off. During our short break we wanted to cycle two routes. The last time I went for a long ride was in the New Forest, where I made the schoolboy error of not taking a map. Four hours later, my saddle-sore behind reminded me never to make that mistake again.
We tracked down dedicated cycle maps at the Moreton-in-Marsh tourist office, near the traffic lights in the high street. After a little debate about realistic distances, I did the sensible thing and agreed with Stacie; the best two routes for us were Moreton-in-Marsh to Chipping Camden, and Bourton-on-the-Water to Stow-on-the-Wold. The first is a gentle six-mile ride and the second a more demanding 12-mile circuit.
Cycle Route One
I was pleased that our first route wasn't a long one, because I hadn't been cycling for a very long time. Mark assured me that I would be fine and promised that we would be in Chipping Campden within the hour. Still, I was dubious; he didn't know just how unfit I was. On the other hand, this was a chance to change that.
We were only a few minutes into our cycle trek when it was already time to stop. It had nothing to do with me needing a breather; it's just that we had planned to pop into the Wellington Aviation Museum, which was down the road from our site. It's easy to spot the museum: just be on the lookout for the large propellers and landing wheels propped up outside. As we arrived, we noticed there was nowhere suitable to lock our bikes. The museum's owner, Gerry, came out and suggested that we leave them around the back in his secure garden. Once inside we paid our entrance fee and Gerry was happy to show us around and talk us through the aircraft pieces and prints on display. This former RAF man set up the museum 19 years ago when the local flight training station closed down.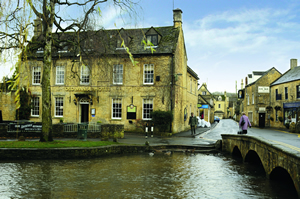 The Grand Union Canal drops 146 feet through Hatton
The museum has an abundance of memorabilia, full of personal stories and local history. Gerry said that some visitors spend up to three hours wandering around. Tempting as that would be, we knew we had to get on, so we happily signed the visitor's book, fetched our bikes and resumed cycling in earnest.
We were still in the town when Mark noticed he had a flat tyre. We were able to walk back and were fortunate that this was a Tuesday, when the local weekly market is held. I fancied having a look around anyway, and now that we needed a bicycle pump, I had a perfect excuse.
The open-air market in the centre of Moreton-on-Marsh lasts all morning and hosts stalls selling clothing, electrical goods, local produce and much more. We found a pump for the bargain price of £1.50 and while Mark was attending to his bike I snatched a few more moments to carry on looking. I can never go shopping and come away empty-handed and as I had forgotten to pack any towels before coming away I was happy to pick up three of them for only £10.
I then remembered that we were supposed to be cycling and it wasn't a good idea to be carrying lots of shopping bags. So I headed over to see how Mark was getting on and was thankful to find his bike back in working order. It was time to get on with our ride, but we were way behind Mark's initial estimate of reaching Chipping Campden within the hour.
We cycled to the end of the High Street and turned left opposite a Budgens. This brought us onto a quiet pathway, which we followed for about a mile before taking a very tight right turn and then the next left, following signs for Draycott. Along this stretch we stumbled across a sign for Old Farm, where we poked around the shop, which boasted home-produced lamb, beef and pork. In fact most of the produce on sale had travelled a mere 14 miles. Somehow, we dragged ourselves away with not so much as a sausage. Instead, we promised that we would pop in on the way home to pick some up for our tea. With food now on our minds, we eagerly resumed pedalling towards our next objective: lunch. The woman at the tourist information office, who helped us plan our route, had recommended we take a break at the Bakers Arms in Broad Campden. Anticipating an enjoyable refuelling stop, we picked up the pace.
After retracing our tracks back to the path, we had a steep couple of miles towards the attractive village of Draycott. As we approached this small community, the route headed downhill. We gave our legs a much-needed rest and coasted into a stunning village.
Draycott has all the charm of a typical Cotswold village; the rows of picturesque thatched cottages make you feel that you have just entered a fairytale land. This sight left us feeling that we had in fact travelled a million miles from the typical houses that Mark and I are so used to seeing as residents of Greater London's suburbs.
We slipped into a guessing game – 'How much do you think they are worth?' – and daydreamed about living in the countryside. Both were short lived. Reality soon had us back on the saddles and heading in the direction of Broad Campden.
Cycling out of the village, we reached a T-junction at which we turned right and immediately left. We were now on the final straight towards Chipping Campden; just another three miles or so to go. Along this part of the route, we passed Northwick Business Park on the left, where signs were advertising a café. But we were within striking distance of the Bakers Arms, a pub which had been recommended to us, and would not be tempted to stop off.
After an easy couple of miles downhill, I broke into a big smile as the pub's sign came into view, almost as soon as we entered Broad Campden. I was certainly relieved, but that didn't make my legs any less wobbly as we parked our bikes outside and entered the Arms. Mark had promised to get the first round as an incentive to get me this far. The sight of the bar and the warm welcome did much to lift my spirits, if not the veil of exhaustion.
Surprised at how busy it was for a Tuesday lunchtime, we found a seat among the locals and began studying the menu. The options all looked very tempting, but we decided a sandwich was the best option. We didn't want to feel too bloated when we climbed back on our bikes. For one thing, Mark didn't need another flat tyre.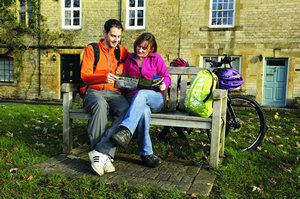 It's really a short cycle ride, Mark assures Stacie
As I washed down my delicious beef baguette with a bottle of lager, I was sorely tempted to stay for another. But, being so close to our destination, we dragged ourselves away from the cosy fire and back into the fresh air.
The final portion of the route was downhill so we were able to pick up our pace. Before we knew it, we had arrived in Chipping Campden.
The village was bigger and busier than those, such as Draycott, we had passed through on the way but it still had plenty of charm. Having secured our bikes, we started exploring the town's shops. It wasn't long before Mark decided he needed another beer and announced that he would wait for me in the pub. I promised him that I would only be 'five minutes', but suddenly remembered that we couldn't stay very long. We had to save some energy for the return journey to Moreton.
Cycle route two
While I was keen to test Stacie's mettle on our second route, I wasn't mean enough to make her cycle the eight miles from our site to the start of the ride in Bourton-on-the-Water. On day two we strapped the bikes to our vehicle and parked in Bourton. Parking spaces flank the High Street, but in high season it's wise to stop further out and cycle into the village. Bourton is billed as 'the Venice of the Cotswolds'. Although we didn't see any gondoliers flogging Cornettos, the comparison is apt. The River Windrush bisects the village and there are stone bridges spanning the water.
High Bridge, which actually just about clears the water, dates back to 1756.
A brief chat in the tourist office on the north side of the river revealed that, although Bourton is tiny, it's rich in attractions. For example, there is the Cotswold Motor Museum, Birdland Park and Gardens – home to 500 birds from around the world – and the Cotswold Perfumery, with factory tours and its own shop. Stacie was keen to put her nose to the test, but I insisted that we get cracking.
Starting our ride, we retraced our drive into the village back along Lansdowne Road, toward the A429. Just past Green Lane Close we turned right onto the A429, before going left onto a lane with no name. Such anonymous roadways are common and add to the charm when all you can see is wild hedgerows and swathes of unspoilt farmland. As we cycled along we hit a slight incline but fortunately this only lasted for a minute or two before we swung right, following signs for Upper Slaughter.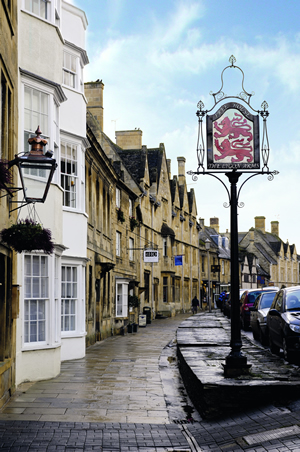 Chipping Campden is a busy village, but still offers plenty of charm.
After examining the map and applying my old GCSE geography knowledge of contour lines, I'd told Stacie that this route was generally flat. As the next lane continued to rise for another kilometre or so I could sense that she was beginning to doubt my map-reading skills. Her furrowed brow was a dead giveaway. Still, we ploughed on and were soon rewarded with a downhill stretch that sped us into the village of Lower Slaughter.
This is a delightful place – the sort that has made the area such a favourite. Most of the buildings are crafted from local limestone, including the large centrepiece church. There's also the Old Mill, a 19th-century building that houses a tearoom and a craft shop. Rested by some downhill freewheeling, we pushed on north from Lower Slaughter on Copeshill Road, towards Lower Swell. It's a direct and manageable ride along one lane to Lower Swell. The odd undulation had both Stacie and I wheezing, but we made it. After cycling for about an hour by this point, I was warmed up and suggested that we push on to Stow. Stacie had a better idea: a break. Settling onto a patch of grass, we cracked open our water and energy bars, wisely packed by Stacie before we left. (Make sure you take plenty of water with you. Village shops often have brief opening hours and even short rides are surprisingly thirsty work.)
We would happily have lingered there a while were it not for the antiques shops beckoning in Stow, not to mention the promise of a drink. Refreshed by our snack, we got back in our saddles and rode past the village green with its evocative war memorial.
We departed from Lower Swell, riding east along the B4068. There was a bit of traffic on this road, but it proved to be an easy one-mile leg into Stow-on-the-Wold. As we approached the end of the road we went straight through the crossroads and the busy A429, which brought us into the town square.
After a morning's cycling Stacie was ready to window shop. Stow is renowned for its antique furniture shops. While some of the pieces carry crazy price tags, nosing through the collections is a pleasant way to spend a lazy half hour and give your legs a break. I rested my weary pins in a nearby pub, The Queen's Head (tel 01451 830 563) in Market Square, for a quiet pint and a breather. Retracing our tyre tracks, we departed from Stow and rode back to Lower Swell. Stacie was tired but I hope she was convinced about how pleasant a day in the saddle can be. As she headed for the campsite and a hot shower, I aimed to cover more ground, so I pushed west, riding uphill towards the kookily named village of Guiting Power.
Continuing straight up Chalk Hill a glance at my map revealed that the next section was rewarding but extremely steep. I imagined that it led to outstanding views but, frankly, I was cream-crackered.
So I took the short cut back to Bourton-on-the-Water. This is still a four-mile ride but is gentle compared with the steep ascents on the way to Guiting Power. I headed left at the T-junction where Cotswold Farm Park was signposted to my right, and pedalled over the B4068 and the A429. A quick right brought me back onto Lansdowne Road, from which the car was a mercifully short ride away.
Verdict: five stars on two wheels
Neither of the routes we tackled was particularly strenuous. But for a beginner like Stacie and a deluded, unfit enthusiast such as myself, they were perfect. We soaked up the village charm but also got off the beaten track, deep in the countryside. And by the time we left, Stacie was a convert. We both loved this low-cost way of enjoying the outdoors, and found the Cotswolds a splendid candidate for an undemanding biking break.