There's a lot to learn about getting the most out of your camping trips, especially when you have kids. These books might help.
Knowing where to go, what to do, and how to keep the kids entertained can be difficult to figure out on your own, but fortunately there's plenty of advice and information out there in some helpful and entertaining books that are sure to guarantee a fun camping trip for all the family. Here are a few of our favourites.
This superb paperback volume is a guide to 175 campsites located all around Britain which have been hand-picked for particularly standing out as something special. If you're looking for ideas on where to take your next camping break, this could provide some welcome inspiration – and if not, it's still fun to read about these unique escapes, scattered across various locations and billed as "the very best of British camping".
Entries include campsites such as a secluded eco-friendly destination in the Llyn Peninsula in North Wales, a miniature campground situated within a Devon vineyard, and even an opportunity to go off the grid at an idyllic location that's still within cycling distance of central London. The third edition was released on the 1st of May 2020, so you're guaranteed an up-to-date listing of some stunning, specially selected campsites. There's also a special edition with the focus on campsites particularly suited to kids, Cool Camping Kids.
Camping with kids can be a great way to break the daily routine and let your children experience something different and fun, but making sure they actually enjoy themselves can sometimes be tricky. If you've ever found yourself short of things to do on a family camping trip, Camping with Kids by Simon McGrath offers plenty of amazing ideas to try out.
This superb book offers advice on a whole range of activities, arranged by seven themed topics. There's advice on how to get there and set up without the kids getting too frustrated, and even how to make it fun. Other chapters include tips on enjoying nature, traditional skills like building a campfire, games to play and arts and crafts to make if it's rainy, campsite cookery, and more. There's tons of ideas and information on every page, so you're sure to find something perfectly suited to your kids and you'll learn a lot going through it – highly recommended!
Here's one for the kids, rather than something to read yourself. My First Camping Book by Dominic Bliss offers guidance for children themselves encouraging them to get out and enjoy the great outdoors, with advice on planning what to bring, setting up, and all the fun activities they can do once they arrive.
Not only will this get your kids excited about a camping trip and help build their confidence about getting involved, it might save you some time too, with the kids getting stuck in with preparation, putting up the tent, and even cooking delicious food and snacks, all while having plenty of fun!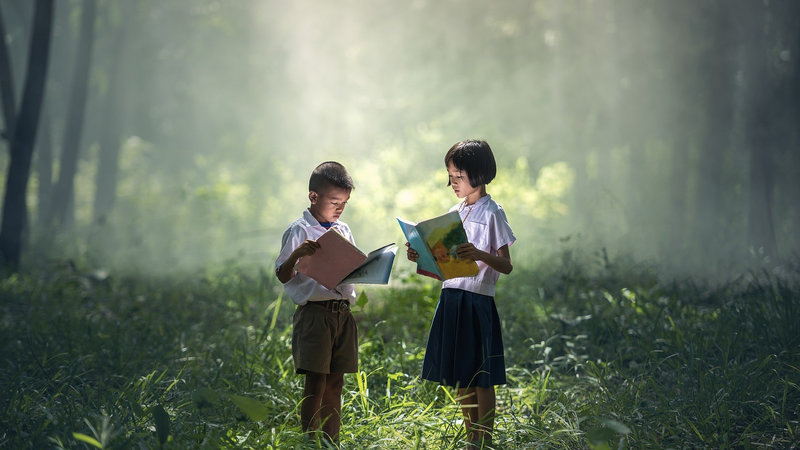 With all these books, you're sure to learn something and help to keep the kids engaged and entertained during your camping trip – hopefully you've found something to suit!