Glamping is the fusion of hotel and campsite and its mix has inspired many an amazing creation. From pods to yurts, here are some of the most interesting.
Glamping is for anyone who loves nature but also likes a real bed and doesn't need all mod cons - but still wants some. You can stay close to nature with a touch of luxury and the reassurance that you will be comfortable, warm and cosy even in the middle of winter. It's all the fun of camping without having to rough it in a tent!
Contemporary wooden glamping pods, traditional yurts and cosy shepherd's huts are just some of the wonderful structures you can stay in to enjoy gorgeous woodland, coastal or countryside views.
1. Glamping Pods, Scotland
Chill Pod
The 'glamping pod' comes in all shapes and sizes but few are as interesting looking as these Chill Pods, designed and built by the award-winning Hoddom Castle Caravan and Camping Park in Lockerbie.
Inside each pod, there is a large double bed (plus two single beds in the larger pods), lighting and electricity. There are double opening windows and a stable door to let the air flow through on warmer days. Outside is timber decking with seating and a separate barbecue area for that real campsite feel.
For even more luxury, Hoddam Castle's super comfortable Kelo Lodges look like giant fairytale Wendy Houses! Each has a hand-crafted 6'6" king-size bed made of wood from the special Kelo tree in Lapland. These lodges also have double glazing, electricity and heating.
Hoddom Castle Caravan and Camping Park is set in the grounds of a 16th-century Border Keep in wooded parkland that forms part of the 10,000-acre Hoddom and Kinmount Estates. It is pet-friendly with disabled access to all facilities, gorgeous views and a lovely children's play area.
Star Pod
The Star Pods at Barnsoul Caravan and Camping in Dumfries are made for stargazers. Large enough for a family of six, these pods have skylights built into the roof, giving stunning night-time views of Dumfries and Galloway's Dark Skies.
These glamping pods are equipped with a heater, foam mattresses, a kettle, toaster and fridge, while outside, there is a built-in barbecue and a picnic table.
Barnsoul Caravan Park is set in 80 acres of woodlands and farmland with ponds and paddocks for family-friendly adventures. The wonderful natural setting is brought to life by an abundance of wildlife, including deer, red squirrels and otters.
2. Traditional Yurt, Devon
Hems Yurt
If you're looking for more of an authentic old-fashioned experience, then this spacious Turkish-style yurt (or round tent) at Hemsford Yurt Camp in Devon offers views across a large lake and the fields towards the river Hems.
The Hems Yurt has a gorgeous gypsy-style painted front door and features a king-size bed plus a double bed and two singles with bedside tables and rugs.
The yurt has a log-burning stove for cooler summer evenings with a supply of logs that can also be used in the fire pit or on the wood burner outside. The seating inside the yurt is a combination of comfy chairs with throws for lounging plus a table and chairs for dining. Lighting comes from a combination of modern solar panels and old-fashioned lanterns.
Hemsford Yurt Camp is ideally situated within the picturesque rolling Devon countryside in the small hamlet of Hemsford near Totnes.
3. Shepherd's Hut, Norfolk
Chez Marguerite
A very different type of structure is the small Shepherd's Hut. Chez Marguerite is a pretty little bespoke Shepherd's Hut in Norfolk with a solid oak interior in an idyllic woodland garden setting. Inside, the double bed is raised giving gorgeous uninterrupted woodland and garden views.
This is a cosy hut that is double-glazed and features a wood-burning stove with logs included. There's also a small bathroom with a shower cubicle. The kitchen area has a double induction hob, a half-size butler's sink, fridge and kettle with a table and chairs for two. Like a tiny hotel, a selection of breakfast foods are provided.
Outside, you can enjoy an evening around the fire pit. Chez Marguerite is a very romantic hideaway that's also ideal for anyone wishing to holiday alone, the perfect creative retreat for writers, photographers or painters.
Located in the village of High Kelling, close to the Georgian town of Holt, this is a secluded, peaceful and unique escape from modern living. Small, but perfectly formed.
What to Take When You Go Glamping
It's worth noting that glamping accommodation is all different and some may not have everything you need inside so do check before you book. Most ask you to bring your own bedding and towels as you would do when going camping.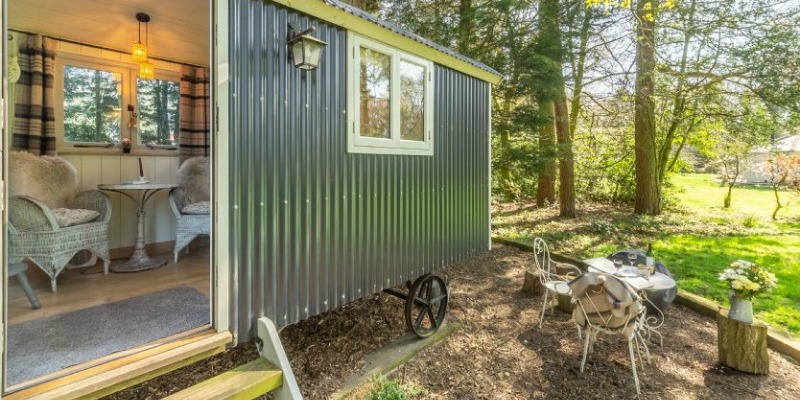 Glamping is a great way to experience a unique getaway close to nature but with a little more luxury than a tent. A wonderful opportunity to stay in an alternative structure that really does make it feel like a special adventure!