It's been a challenging couple of years for holidaymakers and, although the UK is still our number one holiday destination, it's clear that European holidays are back in favour, especially to France.
At the end of 2022, we asked British holidaymakers about their holiday choices and over 2,000 completed our survey. Here are the results.
TOP HOLIDAY DESTINATIONS
The UK remains the top holiday destination for British holidaymakers with almost half (43%) of those surveyed telling us they are planning their next holiday in the UK.
The top choice after the UK was France with over a quarter (27%) planning a trip to France, followed by 23% looking forward to going to Spain and just 7% to Portugal.
MOST POPULAR EUROPEAN DESTINATION
France has long been a favourite holiday destination for Brits due to its close proximity to the UK, ease of travel, warmer climate and world-famous gastronomy.
Almost 60% of those surveyed said they had been on holiday to France in 2019 or before with 10% already booked for 2023.
FRENCH HOLIDAY ACCOMMODATION
Most travellers to France (41%) booked a hotel or apartment while a further 20% opted for a holiday cottage with 11% choosing a lodge or static caravan.
Caravanners, campervanners and motorhome owners made up 8% and just 4% took their tents.
TOP HOLIDAY DESTINATIONS IN FRANCE
Over a quarter of British holidaymakers (27%) who went to France chose a break in the capital city of Paris, while 14% chose to visit beautiful Brittany famous for its spectacular coastline, medieval towns and nearby islands.
A further 9% of those surveyed chose Bordeaux followed by another 9% who visited Normandy. A further 6% opted for the Alps, 5% for Nice and just 3% went to stunning Saint-Tropez.
BEACH, COUNTRYSIDE OR CITY BREAKS
Almost a third (31%) of UK holidaymakers going to France enjoyed a city break with almost as many (26%) choosing a holiday in the French countryside. Surprisingly only 21% went for a beach holiday, with another 5% choosing to go skiing and just 4% opting for a lakeside getaway.
TOP TRAVELLING COMPANIONS
Most holidaymakers (41%) told us they went on holiday with their partner, with a further 32% saying they travelled with their partner and children. Another 11% went on holiday with friends and 6% planned a holiday with their partner and friends. Just 3% said they were travelling alone.
MOST POPULAR MONTHS TO VISIT FRANCE
July is the most popular month to holiday in France and it's no surprise that sultry summer is our favourite time to visit.
Sunny July (15%) is the most popular month, when the Tour de France takes place, closely followed by June (14%) and August (14%), then May (11%) and September (10%), with just 6% going in April.
BEST WAYS TO TRAVEL TO FRANCE
A third of holidaymakers travel to France by ferry. Crossing the channel by boat can take under two hours making ferries the most popular way to travel to France according to a third of those surveyed (33%), closely followed by planes (31%), with almost a quarter (23%) telling us they travel by Eurostar.
MOST IMPORTANT ASPECTS OF A HOLIDAY
Bars and restaurants are the most important aspects of a holiday according to over a quarter (26%) of those surveyed, closely followed by a desire for peace and quiet (25%).
Almost a quarter (22%) said that a swimming pool or water park was most important to them with another 17% saying walking and hiking. Only 7% named kids clubs and just 2% said a wellness spa was the most important aspect of their holiday.
SUMMARY
After a UK holiday, a couple's summer city break to Paris by plane or a countryside getaway to Brittany via ferry to a hotel/apartment or holiday cottage in search of great bars and restaurants for peace and quiet was the most popular type of getaway in 2022 for British holidaymakers.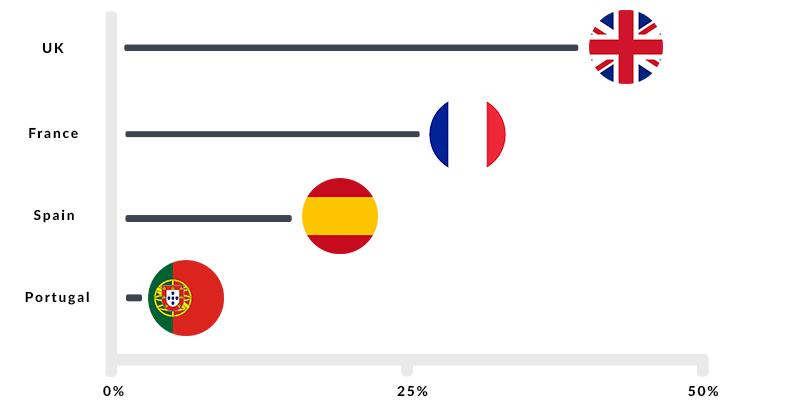 Source: Holidays in Europe Survey of 2,138 British holidaymakers via Caravan Sitefinder conducted between 18th October and 18th November 2022.