Nick Harding and family love the Scarborough-Whitby area for its variety plus all kinds of rainy-day attractions.
To paraphrase Charles Dickens: It was the worst of times, it was the best of times. Sorry, Mr Dickens, but there's no better way to sum up the Easter Bank Holiday weekend I had on the Yorkshire coast with my wife and children (ten and nine).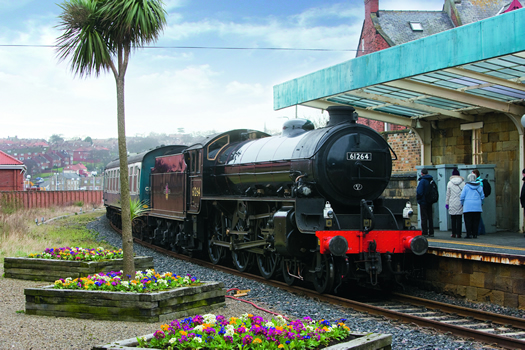 However, rather than being a tale of two cities, this was a tour of two towns and a bit more besides. Scarborough and Whitby are the two completely different seaside resorts that dominate this area. But while you're here there are plenty of other places to visit, including picturesque Robin Hood's Bay, snazzy Bridlington, genteel Filey and more.
Nearby caravan & camp sites
Jacobs Mount Caravan and Camping Park is a family-run campsite, …

Small, family owned caravan site located on the west of Scarborough …

The Camping and Caravanning Club's Scarborough campsite is just …
Scarborough was our base, and not just because it styles itself as Britain's first seaside resort, dating its holiday heritage back 360 years. It's also on the main road to Robin Hood's Bay and Whitby.
It was officially the second day of spring when we looked out on Good Friday morning, to be greeted by sun, and a wind whipping in off the North Sea. Talk was that the next two days would feature more wind, abetted by snow and hail, so fleeces, coats, kids and more were bundled into the car and we were off, determined not to let the weather get the better of us. Whitby train station was our first stop, with a trip on the North Yorkshire Moors Railway (NYMR) being the first of our holiday treats.
It's hard not to love a steam train ride. In the past couple of years this line, which travels from Pickering across the North Yorkshire Moors, has been extended into Whitby. Along the way it passes magnificent scenery and rebuilt stations. En route, we stopped off at Goathland. "Hogsmeade", cried our Harry Potter-loving kids.
Some 20 miles along the coast from Scarborough is Bridlington (which has, on Thursdays, a farmers' market). When we arrived, the weather took a slight turn for the worse. If you like amusement arcades, there are plenty. And we did have two major finds.
The first was Notariani's, an ice-cream parlour in the Italian tradition, which means good coffee, too. The second, which was to come in the evening, was even better: Rags restaurant down by the harbour. It was a pity that, as dusk fell, the harbour didn't actually have any lights on; the seaside atmosphere would have been complete. Still, the staff were very helpful and welcoming.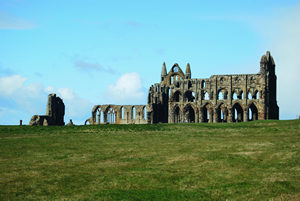 Ruins of Whitby's medieval abbey stand above the old town
The manager – a fellow Nick – explained that Rags will prepare "almost anything" if requested in advance. Sounds like a challenge to me. We went vegetarian, and were delighted by the butternut squash stuffed with Mediterranean vegetables and grilled asparagus spears as main courses. The apple crumble and custard went down a treat, too, although by that stage it was all we could do to finish one between the four of us. That meal was the high point of our visit to Bridlington, which was not swimming in attractions.
For the full sensation of a seaside resort, you really ought to visit Scarborough. There's something engaging about the seagulls and sea air, wafts of vinegary chips, amusement arcades and ice cream, sun and sand. Plus there's the mix of Victorian grandeur, kiss-me-quick cheekiness, and, to be frank, scruffiness around the edges that stops the town from taking itself too seriously. From its castle ruins to the recently renovated spa, Scarborough's an ideal place to go for that great British seaside holiday.
Scarborough has got more, of course. For example, the city has its own clog shop, making shoes to order on the premises.
Aside from its fairly ordinary town centre, Scarborough has some interesting side streets (try Bar Street, www.barstreetshopping.co.uk), joke shops and – another seaside speciality – more than its fair share of secondhand bookshops. There's also an indoor market every day.
Scarborough is at its flashiest on the South Bay side: home to amusements, cafés, sweet stalls and more that is typical of any UK resort. We dined out at Winking Willy's, upstairs overlooking the stormy sea. It's a traditional fish and chip shop that proclaims itself to be "100% committed to the support of Scarborough's fishing industry". Our verdict: you just don't get fish and chips like this inland. Plus, open-topped buses stop right outside, so you can roll out and explore as your lunch goes down.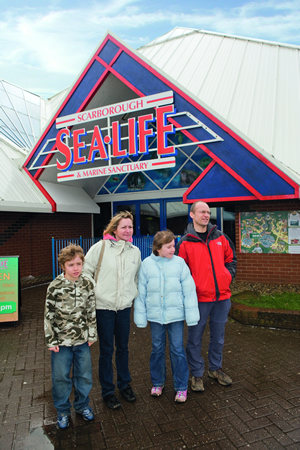 What better place to save visiting for a rainy day than Scarborough's Sea Life and Marine Sanctuary?
Scarborough's 'other half' is North Bay, where you'll find fewer attractions, but more parking spots opposite the seafront. There's a lot of development going on here, too.
Inland in the North Bay area, you'll come across the wonderful Peasholm Park. It's certainly more than just another Victorian park. The focal point is a lake where you can hire all kinds of boats, including dragon-headed pedaloes, or watch quaint re-enactments of naval battles, complete with explosions. There are walks and a frequently used bandstand.
About a mile away is Scarborough's Sea Life and Marine Sanctuary. Entry is not cheap and you have to pay to park as well, but the money supports Sea Life's conservation work. We watched otters being fed, touched a starfish – the bumpy surface is actually its teeth, lots and lots of them – and admired the sting rays, angel fish, snappers, sea horses, sharks and more. Sea Life also has a seal rescue centre, where you can find out how staff look after abandoned, often injured seals.
When Scarborough becomes too much of a good thing, go to Robin Hood's Bay. We used one of the official car parks at the top of the hill and walked down, encountering an Easter Sunday egg-throwing ceremony taking place on the beach – using real eggs.
In the old town, it's all tiny cobbled streets down to the bay itself. It's a tad touristy, but in a pretty, tasteful way. I like its own description: "a great outdoor classroom, but a fragile environment and a village community." We came across fossils during two hours' 'truffling' on the beach, but the rockpools yielded little. Inland, you'll find a sweet shop, pubs with a smuggler's heritage, a sprinkling of classy tourist shops and other delights. Relaxing is easy at Robin Hood's Bay, but the star of the Yorkshire coast for me is Whitby. Dare I say it's altogether more middle class than Scarborough? Even its chippies aspire to be upmarket. For an introduction to Whitby, we booked to go on a guided tour starting at the ruins of its medieval abbey, descending the East Cliff's 199 steps to the intriguing old part of the town and back up to its famous whale bones at the top of the West Cliff.
Maybe our decision to do the walking tour was taken under the influence of our guide, Harry Collett. He promised that he knew just the right spots to shelter from the ever-present wind – which he did.
Rosie and Rory get a close look at Sea Life
The tour introduced us to plenty of famous Whitby people: Captain Cook (he was apprenticed here, and a museum tells his story) and his ship, the Endeavour; author Bram Stoker, who used Whitby as the setting for Dracula; Charles Lutwidge Dodgson, who told stories to children on the beach, before he went to Oxford and wrote under the name Lewis Carroll.
We also learned about Whitby's past fame in the whaling industry, where to get Whitby cured kippers, the old market place, the tiny little back streets on the east side, and that curious stone called Whitby jet.
Then there's the massive variety of places: Whitby Abbey (the ruins are actually what is left of its third incarnation) and its excellent visitors centre; the church next door with its burials of Tom Thumb and Humpty Dumpty (another of Harry's stories); the tale behind the polar bear statue on Bridge Street; the three miles of golden sands to enjoy in the summer; Pannett Park and Museum further out of town. Even the Khyber Pass is here.
As our guide Harry Collett put it: "Here in Whitby, we cater for everyone, from people aged eight to their 80s." His catchphrase is: "There's the right way. There's the wrong way. And there's the Whitby way." You'll soon learn there's a strong streak of independence here. Also, in case you haven't detected it, there's more than a little rivalry between Whitby and Scarborough. All I can say as a tourist is, lucky us; we can play one off against the other.
Fittingly, our biggest treat was at Whitby, when we dined at the stylish Greens on Bridge Street. It's especially brilliant for seafood fans. Book to guarantee yourself a table.
So that was our first trip of this season. We packed in more activity over five days than we normally would. You'll have noted, though, that we didn't spend any time lounging around on the beaches.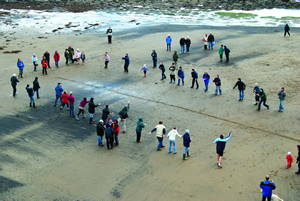 In an unusual display of holiday fervour, residents of Robin Hood's Bay celebrate Easter Sunday by throwing real eggs at each other.
Worst of times? It was the early Easter, really. The weather did put a stop to any beach fun. And, much as I admired the antics of the surfers in Scarborough's South Bay, there was no way we were going to get out on the North Sea in those winds. Yorkshire Coast radio kept us informed. We were not surprised when the station announced road closures, although we did get an unexpected, albeit free, car wash as we drove along the front.
Best of times? Actually, it was a good time to go. Not just because of the early Easter, but school holidays were staggered around the country, so the place wasn't suddenly overrun by children. This is a very popular holiday area, especially in high season, so we certainly avoided the crowds.
We had a brilliant time. We made some new friends. We did everything from hunting for fossils to snowballing. The only thing we didn't do was get out our new deckchairs.
We didn't manage a boat trip – for obvious reasons. That, and the promised look around Bridlington's Sewerby Hall and Gardens, are on our itinerary for next time. And after this wonderful week, that will be soon enough.