Mark Bigault headed to Ullswater in the Lakes without a plan, and thoroughly enjoyed himself.
Mark Bigault headed to Ullswater in the Lakes without a plan, and thoroughly enjoyed himself.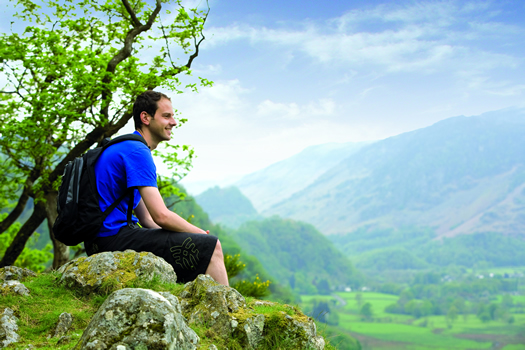 My father loves his proverbs and while planning my latest trip away, to Ullswater in the northern Lake District, one of his favourites sprang to mind: "The devil is in the detail." Thinking about this, I realised that I've never just upped and gone. I've never been spontaneous and just left, to see what awaits me. I always plan. But little details can, as dad says, hold you back later on.
Nearby caravan & camp sites
Ullswater Caravan, Camping & Marine Park is a beautiful holiday …

Cove Park is a small, peaceful and well maintained park (ETC …

Overlooking Ullswater in the Lake District, this family-friendly …
So why plan at all? Aside from my transport, a place to stay, and enough underpants for a week, what else is there to organise? On deciding nothing, I hitched up and headed north. After all, a rolling stone gathers no moss. (Dad would be proud of that one.)
I started my unscripted trip to the Lakes alone. My girlfriend and a few friends were joining me at the weekend, so I went on my tod. Staying overnight at the northern tip of Ullswater, the next morning I realised I'd left something vital off my original kit list: walking shoes. Whenever going to the Lakes, whatever you feel like doing, a sturdy pair of waterproof shoes is always a good idea. Undeterred by my mistake I set off defiantly in a pair of old trainers, on the main walk of my stay. Thankfully, my route wasn't especially muddy or arduous.
The walk was suggested by Karen, one of the wardens at the site where I was staying, who had given me a hand-drawn map when I arrived. This proved indispensable.
My destination was the Aira Force waterfall, which is halfway along the eight-mile circuit. Karen insisted that if I did any walk during my stay, "it should be this one". The first section is not overly inspiring, because the path winds through a dense patch of forest that obstructs any view of the lake. It also lasts for about 1.5 miles which, with the sun beating down, felt like a long way.
But as I emerged from the woods, by the ruin of an old shooting lodge, the view was amazing. Following the path, which snakes around the steep sides of Gowbarrow Fell, I looked out across Ullswater to the hazy horizon. It was simply fantastic. I was alone in the wilderness, with nothing but the spectacular vista for company. It was incredibly peaceful and totally unexpected.
There's a rocky outcrop as you follow the path around, which is ideal for a picnic or a brief rest. The walk is of moderate difficulty, and regular stops for water and rest are advisable. Sadly for me, I only bought one bottle of water and no food. My original thought had been to stroll up to the waterfall, then return to the site from there. But realising that Aira Force was more than halfway around, and I was more than a little hungry, I began to regret my decision to leave the chewy bars behind.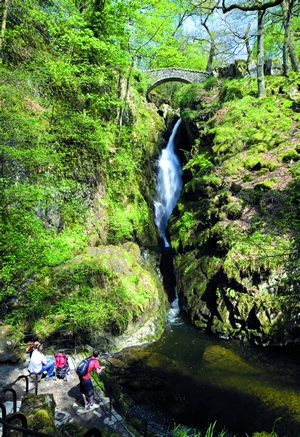 A stone bridge spans the top of dramatic Aira Force
Watered but not fed, I carried on. After another 45 minutes of enjoying stunning views I reached signs for the waterfall, and could hear it bubbling away nearby. The paths leading to Aira Force are dusty, rocky tracks and combined with the high bridges they made me feel a bit like Indiana Jones, trekking with just my wits and my whip to protect me. Realising that sun exposure was turning me a little odd, and that I didn't have a whip, I nipped into the tearooms near the waterfall for an ice cream.
When I saw the waterfall, I nearly choked on my cornet – it was spectacular. Topped and tailed by two traditional stone bridges, the water cascades down through the steep crevice relentlessly, and cooled me with its spray. Suitably refreshed after a few minutes within range, I was ready to continue.
For the second half of the walk I scrambled up past the top of the waterfall and the flat, white stones that make for yet another gorgeous picnic spot.
As I entered farmland and looked at the map, I read the warning: "Don't panic! Keep following path." Until then I hadn't been panicked in the slightest.
Looking up I noticed that quite a few rams were giving me the eyeball, standing over their lambs and stamping menacingly. I've watched the Discovery channel so knew they meant business. But unsure whether rams can smell fear or not, I strode straight ahead. Thankfully, there's a pub stop three-quarters of the way along the walk, so I ducked into the Royal Hotel at Dockray. Exhausted, that first sip of Black Sheep ale was a little taste of heaven. As were the three packs of dry roasted nuts, which gave me the energy for the final leg back.
Walking, especially an eight-mile trek in the sun, is an exhausting but rewarding way to see the Lakes. But there is another way. I really enjoyed driving along the A592 that brushes the western side of Ullswater. The tight turns follow the curve of the shore, and are most definitely an inspiring drive on a sunny day.
There are great picnic spots around every corner
Even more spectacular is the Kirkstone Pass. On a whim I headed south from Ullswater, enjoying the drive, and followed signs for this famous track. Because the road is set so high up, the views down the valley towards Ambleside and Windermere are incredible. But make sure you don't get carried away with the sights – there are many perilous turns and single-track sections, which are hazardous if you're not paying attention. They're also exhilarating, and I had a lot of fun navigating my way to Ambleside on the northern tip of lake Windermere.
After my afternoon drive (undertaken at speeds closer to walking than rally pace) I stopped off at the Wateredge Inn in Ambleside. There is nothing special about the pub inside, but the beer garden unfurls right onto the shore of Windermere. As I sat on a bench with a pint of the local Bluebird ale, swans bobbed at my feet while the north-west's glitterati trod the decks of yachts moored at the jetty. It's a gorgeous place and well worth driving the extra miles.
Back at base, my girlfriend and our friends had arrived, and had already decided a trip on an Ullswater Steamer was essential. These leave from three places around Ullswater: Pooley Bridge, Howtown and Glenridding. I'd noticed them when on my walk to Aira Force – from above they looked incredibly serene and create wonderful patterns as they glide across the surface of the water. We jumped on board at Pooley Bridge, after nearly dropping our ice creams when the fog horn announced the steamer's arrival. The ship is a wonderful old thing, all dark hardwood and brass handles.
Many people sail between the three villages because you can start walks from all of them, with Glenridding having the widest choice of trails. We walked back from Howtown to the Pooley Bridge car park, which stoked our hunger and had us ready for a picnic. Having already found a nice spot overlooking Derwent Water, I squeezed the car over the old stone Ashness Bridge, before we scrambled up to enjoy the view and some sausage rolls. Precious finds such as this are common in the national park, quiet spots perched atop contour lines, waiting to be discovered.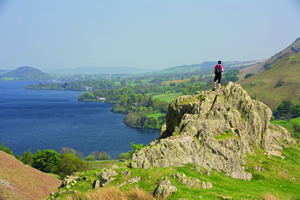 Rocky outcrops are ideal picnic spots, only if you've remembered to take one…
With the girls arrival, much of the weekend was spent relaxing and reclining. There was the occasional call for activity: anyone for horse riding? Fancy a bike ride? But a stroll, followed by a pint, finished with a snooze was the activity of choice, thanks to my careful cajoling.
We did manage to go rowing from Glenridding, hiring a five-person boat from St Patrick's Boat Landings for a couple of hours. The time flew by as we took it in turns rowing up and down the vast lake. We spun through quite a few circles, too, while we tried, often unsuccessfully, to marry our strokes. But luckily the lack of lake traffic prevented any unfortunate collisions.
At the end of the trip we were all sad to leave the Lakes. And I learnt something, too – not all great holidays need a plan. I'd pitched up without a clue, and left without a care. My only regret is that we couldn't stay longer.