Ah Edinburgh, our home base and working city for all of us here at Caravan Sitefinder. And what a city it is, especially in August when the sun is (mostly) shining, the rain has (kind of) stopped, and the circus is in town.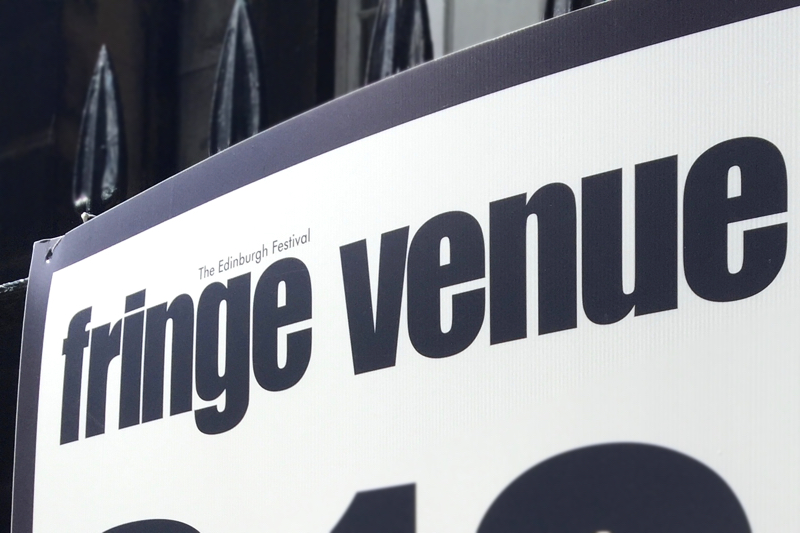 Look out for venues throughout the city during the Fringe | ©2017
August is the month of the Edinburgh Fringe, and this year sees its 70th birthday rolling in with no signs of walking sticks, bad specs or lining up for pensions on a Wednesday morning at the Post Office. There will, however, be a whole load of revelry, music and colour, so if you're toying with the idea of popping into the city, here are 5 sure reasons to tempt you.
There's something for everyone
While most festivals claim to be an event for everyone (but honestly, who other than post-exam teenagers go to Reading or Leeds?), the Fringe can lay claim to that statement being 100% true. Whether you're after poetry readings, flash mobs, metal bands, puppets, clubbing, a capella, burlesque or boylesque, it's in the programme in many weird, wonderful, and varied ways.
It's budget friendly
Short on cash doesn't have to mean short on culture, and there are tons of ways to enjoy the Fringe without breaking the bank. Every day the Virgin Money Half Price Hut sells tickets at, well, half price; why not pick one at random and see where you end up? It could be the best thing you see all year! There are stages on the Royal Mile which showcase acts for free every day, and people handing out flyers are often handing out discounts, so be sure to take them off them if they approach you.
Food, glorious food
With the travelling circus and thousands of people, also come the food vendors and gourmet trucks and rolling rum bars. Anything from hearty and comfortable mac 'n' cheese to South African vegan curry, to o-so-tasty paella. Fringing can work up a hell of a thirst, too, which is lucky because every green space is festooned with fancy gin and cocktail bars, with pints and G&T's being sipped as people bounce from act to act.
Unique venues
It's unlikely that you'll see a cabaret act or acoustic guitar session in your average venue here at the Edinburgh Fringe, but in a chapel, or university hall, in an old pub or in a pop-up venue which has been specifically designed for a certain performance. You may find yourself in watching stand up comedy inside a truck, opera in a circus tent, or even cabaret in the vaults under the castle.
It's a celebration of the world
In August, Edinburgh is not just a city in Scotland, but it turns into the world. With performers and visitors coming from all corners of the earth to make people laugh and dance, this really is a celebration of everything wonderful in this wonderful world. The Fringe sees shows which never go to London or tour the UK, but will stay in our lovely city for the duration of the Festival. See comics from Australia, street clowns from Devon, theatre from Egypt, and singer-songwriters from Georgia.