Caravans are cool. It's official. Caravan holidays are the easiest and most cost-effective way to get away. Here's why we love caravanning!
Last year, two million Brits booked to stay in a static caravan in a caravan park. Low-cost caravan holidays are a great way to enjoy a beautiful change of scenery near gorgeous coastlines and stunning countryside with everything you need to feed and entertain everyone.
For many of us, part of the simple joy of a caravan holiday is in the little tables, the fixed sofas and the cute curtains that remind us of childhood adventures. It's almost like having a giant Wendy House to play in all over again.
Luxury Caravans
The luxury caravans of today are vastly different to the models of our parent's and grandparent's era, and filled with all the latest mod cons, from flat-screen TVs with surround sound to private hot tubs. Many offer incredible panoramic coastal or countryside views and some are also pet-friendly.
Most modern holiday parks feature indoor and outdoor swimming pools and many also have leisure centres, some of which boast state-of-the-art gyms, swimming pools and luxury spas with beauty lounges. A world away from the basic shower blocks of the old-fashioned camping sites of yesteryear. Today's caravans are quiet and warm with double glazing, a fireplace in most living areas, a veranda with garden furniture for eating al fresco and some have stylish bedrooms with beautiful views.
Caravan Parks
Staying in a brilliantly located caravan park or one with on-site facilities from water parks to restaurants and a little local shop means that once you're there you don't have to travel again unless there's something worth going to see. You could go swimming all morning and then come back to enjoy a light lunch before heading out to the beach or visiting nearby attractions. Renting a static caravan for the week rather than owning a camper van also means that you can try somewhere new each time and upgrade to a bigger or better model if you so wish.
From live music and comedy acts to karaoke and quiz nights, most caravan parks have on-site activities and entertainment. Some parks are conveniently located right next to circular walking trails for avid coast or countryside explorers with wonderful traditional old country pubs en-route. With children's adventure playgrounds and indoor soft play for younger children, they are also an ideal home-from-home for young families. At some, you can enjoy live music, comedy and magic shows, have fun with karaoke or enjoy outdoor activities for all the family from geocaching and body zorbing to treasure hunting.
Disabled-Access Caravans
For holidaymakers with wheelchairs or disabilities, there are caravans with extra-wide walkways and a ramp to the door that also feature other useful additions to the bedrooms and bathrooms to make a holiday more comfortable for everyone. Designed with extra accessibility for anyone with mobility issues, the master bedrooms contain a double bed with a hoist and an en-suite toilet and there's also a large wet room with grab bars for extra safety.
Low-Cost Self-Catering Holidays
There are plenty of choices when it comes to self-catering holiday homes in the UK, from pretty country holiday cottages to seafront safari tents but they don't give the classic cosy caravan feel. Luxury high-end caravans feature kitchens you will want to spend time cooking in and a dining table and chairs worthy of a stylish dinner party.
A basic caravan will offer everything you need for a low-cost self-catering holiday so you can bring ingredients to cook up a hearty meal each night and enjoy a snack on your veranda on the days you don't eat out. Groups of friends or family on holiday together might like to rent adjacent caravans and meet up for dinner each night.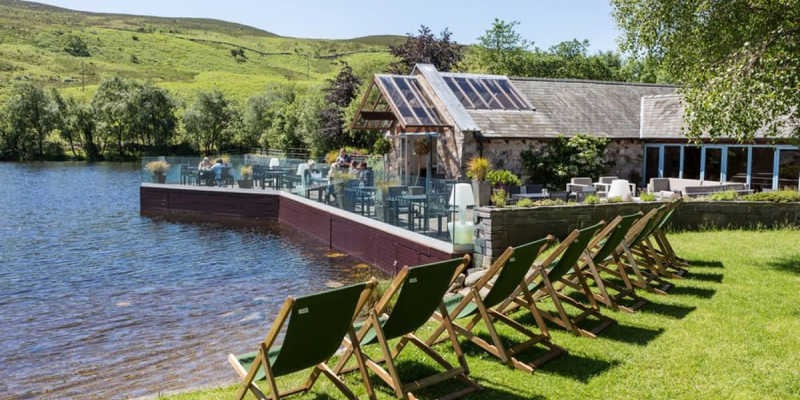 While caravan holidays will always be one of the best options for anyone on a budget, the luxury caravans of today with private hot tubs and amazing views have to be seen to be believed. Contemporary holiday parks with beautiful surroundings have taken caravanning to a whole new level. It's time to go caravanning!