Looking for an inexpensive way to enjoy an adventure in a stunning natural landscape? Then camping is the choice for you.
But a first-time camping trip can be a daunting prospect for the inexperienced. Rest assured though, it needn't be. Take note of the advice, tips, and pearls of camping wisdom in this beginner's guide and your first trip is bound to have you planning your second.
Essential Camping Gear
Here's what you'll want to take with you:
A sleeping bag
Even during the height of summer nights can get cold, so make sure you get yourself a warm one. If you get too hot, just unzip it.
An airbed or camping mat
If you go for an airbed, make sure you have an air-pump that can be plugged into your car's power socket. Your other option is a camping mat. They're less fuss, and much more comfortable than they look. Either will greatly improve the quality of your rest.
Cooking equipment and eating utensils
Get yourself a metal or reusable plastic knife, fork, spoon, bowl, and mug, a cooking pot, and a gas stove, and you're all set.
A backpack
A nice sturdy backpack is the easiest and most comfortable way to carry the food, drinks, and other items you'll want to take with you when off on your adventures away from camp.
Your phone
Taking a break from our digital lives is part of the fun of camping. That being said, in case of getting lost or an emergency, it's a good idea to have your phone handy. You'll want to make sure you can top up its battery, so a USB charger that can be plugged into your car and a portable external battery that can be carried with you are two important accessories.
A tent
When choosing your tent, you'll want one that's big enough – as a rule of thumb, choose one 'person' size bigger than you require – and one with a high HH (hydrostatic head measurement) number. 'HH' is a fancy term for waterproofing. The higher the HH number, the more water-resistant the tent. Further considerations should include weight, build quality, number of compartments, and the option of a porch. If you're looking to buy a tent for your family, have a read of our article, Best Value Family Tents for 2020.
A camping chair
You'll want a camping chair to sit on. Fold-up ones are easy to load in and out of the car.
Cash
Urban folk are becoming increasingly used to making payments via the tap of a card. Old-fashioned hard currency is still preferred out in the hinterlands.
Tip: army surplus shops often sell more robust and less expensive outdoor gear than you'll find in the big brand camping outlets.
What to Wear When Camping
Leave your nice clothes at home. Instead, pack:
Walking boots
Trainers are comfy, but they aren't waterproof. A decent pair of walking boots will keep your feet dry, protected, and comfortable for the entire duration of your trip.
Layers
If you plan to trek up a mountain, be aware that the weather can be changeable at higher altitudes. But as long as you're wearing or carrying layers you can easily put on and take off, there's no need to worry. A nice, warm, lightweight fleece will always serve you well.
A waterproof jacket
You can't prevent the rain, but you can prevent it from getting your clothes wet. For that, you'll want to get yourself a waterproof jacket. It's also never a bad idea to stock your camp with a spare change of dry clean clothes.
Tip: check the label to ensure the jacket you're buying really is waterproof. Appearance can be deceptive.
Choosing a Campsite
Now you've got everything you need, you'll want to start thinking about where you'd like to stay.
One campsite can vary greatly from another. High-end campsites offer a full range of top-spec amenities including wash facilities, power hook up points, rec rooms, children's parks, and more. At the other end of the scale, you'll find sites that are little more than a field. Both have their advantages, and your preferences will develop with experience. But to make an educated guess at one that's likely to be a good fit for your wants and requirements, ask yourself the following questions:
•Do I want an open fire?
•Do I require an electric power hook up point?
•Do I want peace and quiet, or the freedom to stay up late talking?
•Do I want shower facilities? (all campsites have at least one WC)
•Do I want to take my dog?
•Will I be staying in a group that is under 25, single-sex, or both?
Then check that the list of rules and policies belonging to any campsite you're considering staying at match your criteria.
Tip: don't be afraid of basic campsites. They typically offer lots of freedom and a more authentic 'back to nature' experience.
Pitching a Tent
This is the first thing you'll want to do after checking into your campsite.
Tents can look complicated to those who've never erected one. But it's in the best interests of manufactures to make the putting up and taking down of their tents as simple as possible. Follow the instructions carefully and you'll have yours up in no time.
Avoid pop-up tents. The convenience comes at a price. Their waterproofing is typically less than excellent, and once the genie has sprung from its bottle, prepare for a job getting it back in.
Tip: one thing your tent's instructions probably won't tell you – for maximum comfort, pitch up on the most level patch of ground available.
Choosing Daytime Activities
Lots of campsites offer a selection of leaflets for nearby sights, activities, and attractions. If you plan to camp in a national park, you'll get an insight into the UK's best in our guide to the best UK national parks.
Tip: campsite staff and other guests are further wells of local knowledge.
Cooking and Eating
Breakfast
Most campsites have an onsite store where you can get basics such as bread, milk, teabags, and eggs. Many of these stores offer much more and their produce is often local. If the site allows fires, the store is likely to sell firewood.
Lunch
Packed lunches are standard when camping, so make sure you have a good supply of bread and fillings for sandwiches.
Dinner
In the UK you're never far from a pub, and a hearty dinner and a pint in a cosy local is immensely rewarding after a long day of outdoor activities. But try cooking for yourself, too. Have a read our Best One-Pot Camping Recipes of All Time article if you want your eyes opened to the delicious possibilities available to campers armed with little more than a pot and a gas stove or an open fire. Some sites allow disposable barbeques, others don't, so if you're thinking of using one, it's best to check beforehand.
Tip: you're likely to get peckish between meals, so bring snacks. Nuts are a perfect choice. They're tasty, healthy, filling, and packed full of energy.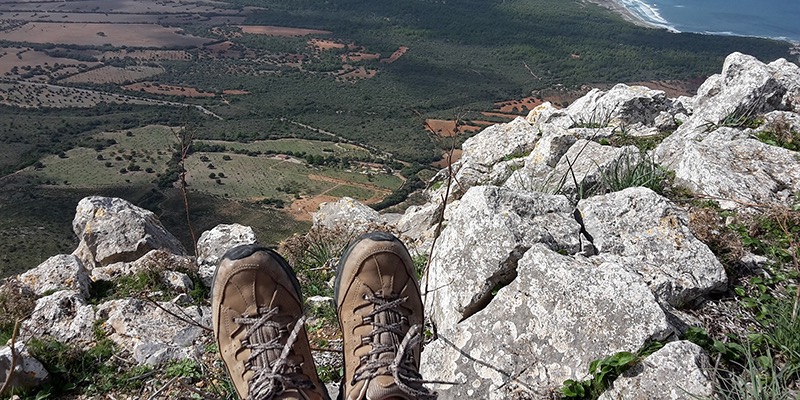 There you go. Follow this guidance and you'll dodge 99% of the problems that typically occur on first-time camping trips. We hope yours is a fantastic success. We're sure it will be.