Stacie Pardoe takes her little warriors to York to explore the city and its Viking heritage.
We went to search for the Vikings heritage in this destinctive area.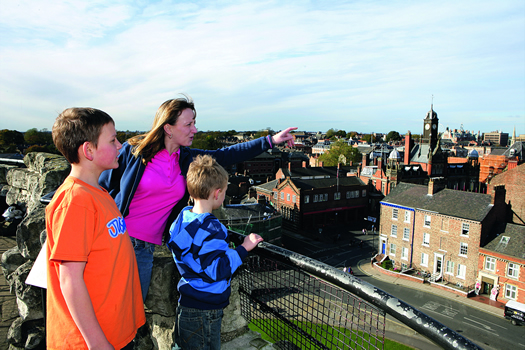 I had been invaded. There were Vikings fighting in my garden, stealing biscuits from my cupboards and trashing my rooms with toys. I hadn't a clue where they had come from but I desperately wanted them to invade somewhere else.
Nearby caravan & camp sites
Rowntree Park Caravan Club site is a wonderful holiday park, …

Caravan and Motorhome Club Certificated Location offering 5 grassy …

Friendly, relaxing site behind a pub. We are set within a large …
Well part of this was true. I knew the invaders. They are my son Liam and his cousin Josh. Since their recent fascination with all things 'Viking' they had taken on the pseudonyms Bold Blacktooth (Liam) and Ruthless Redbeard (Josh) and I hardly recognised them.
It was half-term and I needed to restore order to our camp and to return Bold Blacktooth and Ruthless Redbeard to their former selves before I sent them back to school. I considered the options for a new battleground for my little warriors to conquer.
There was only one place I could think of that would welcome two little Vikings – York, our capital of Viking heritage. We loaded up our warboat (caravan) and made the long voyage up the M1.
Our invasion of York had begun. Our plan of attack on the city came in the form of a York Pass. The one-, two- or three-day passes give visitors access to more than 30 of York's attractions, providing huge savings if you are planning to visit a number of places.
I bought each of us a three-day pass for our raid on York. This would give us enough time to get around the places on our hit list and inspire us to try a few others if time allowed.
We had come in search of 'real Vikings', so the first place to visit had to be the Jorvik Viking Centre, which focuses on Viking-age reconstructions. Everything in the centre is based on archaeological evidence found during the excavations around the Coppergate area between 1979 and 1981. While digging on the site of an old sweet factory, archaeologists unearthed the remains of 10th-century Viking-era buildings. In total, 40,000 objects were uncovered.
The centre is a very popular attraction: we had to queue for an hour before we finally went in. I later discovered that you can pay a supplement to pre-book tickets and avoid the queues. The boys were excited at the prospect of meeting their 'ancestors' and before we knew it we were in a time machine being transported back to the year AD975.
The capsule ride floated us through a Viking village where we got to experience the sights and smells of the era. The boys were intrigued to hear about children who didn't have to go to school. But when they realised that children had to go to work and catch their own food instead, they decided it was more fun being a 'modern Viking'.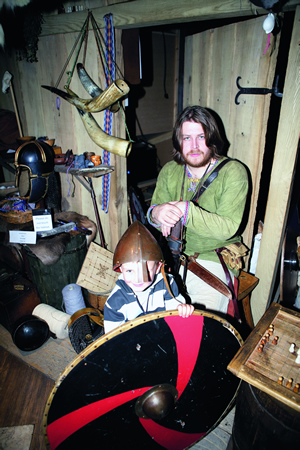 Josh and Liam were delighted they were able to try out authentic helmets and swords. They even got a chance to battle with a real Viking, at a game of chess!
When the ride finished we wandered through the exhibition hall where 'Vikings' were on hand to answer our questions. Josh and Liam were delighted they were able to try out authentic helmets and swords. They even got a chance to battle with a real Viking, at a game of chess!
There are a number of interactive displays and touch-screen computers dotted around to use at leisure. Josh and Liam spent ages exploring and we managed to find answers to all their Viking-related questions.
However, the 21st century beckoned. The boys had just enough time to pick up souvenir sets of helmets and swords before we were back in the year 2009.
While learning about the Coppergate excavations the word 'archaeologist' had often popped up. From what the boys understood, these people were allowed to dig around in mud all day and get dirty without any complaints. This sounded like a tempting career to Josh and Liam. So when I mentioned there was a place nearby that required some little archaeologist helpers they jumped at the chance.
DIG recreates an archaeological site and welcomes little helpers to come and dig for artefacts. A fully fledged archaeologist talks the children through the sort of objects they can expect to find and they are then free to grab a trowel and see what they can dig up. After a very informative talk we were soon allowed to go on site. As the boys started digging I was pleased to discover that the 'mud' was in fact just rubber chippings. Although I think the boys were a little disappointed.
The site is divided into different time periods and groups are given around 30 minutes to uncover items from the Roman, medieval, Victorian and, most important for my little warriors, Viking eras. There were squeals of excitement as pottery, coins, armour and bones were uncovered. Unfortunately, all the finds had to be reburied for the next group of visitors. The boys didn't seem too bothered by this. In fact they had just as much fun covering it all up again.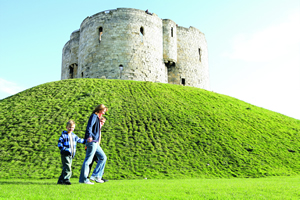 A monument to York's rich history as a strategically important town in the North, Clifford's Tower is open to the public. This enables people like us to take a step back in time.
The attack seemed to be going well. We had discovered some Vikings, found answers to many of our questions and also managed to uncover some history of our own.
As the boys played with their action figures over breakfast the next day, it gave me an idea. They spent so much time play fighting with models it was about time they saw a real battleground. So we put on our armour and jumped on the Park and Ride bus into the city. We were heading for Clifford's Tower. This is where all the action used to take place.
The tower is what remains of York Castle, which was originally built by William the Conqueror for his northern campaign in 1069. It has a turbulent past, surviving 940 years of flood, fire and siege. At various points in its history, Clifford's Tower was a royal mint, functioned as a prison, gruesomely displayed the bodies of leaders of uprisings and was even a court. Now a monument to York's rich history as a strategically important town in the North, the tower is open to the public. This enables people like us to take a step back in time.
As we approached the area the tower was hard to miss. It dominates the skyline on top of a huge mound. We craned our necks back to see the whole of the stunning construction.
We were greeted by a set of steep steps that the boys were keen to race up. Counting them as they climbed, they managed to conquer all 104 steps in record time without even catching a breath. I was just behind, slightly more puffed out.
Walking along the tower wall we counted our blessings for the clear bright day. As we peered over the edge we could see for miles. Josh and Liam had been given activity sheets that challenged them to see what they could spot while looking out over the city. We all had great fun pointing out items from the past and present, ticking them off as we found them.
The boys were excited to have stepped inside a real battleground and I was thrilled they were soaking up so much knowledge without even realising it.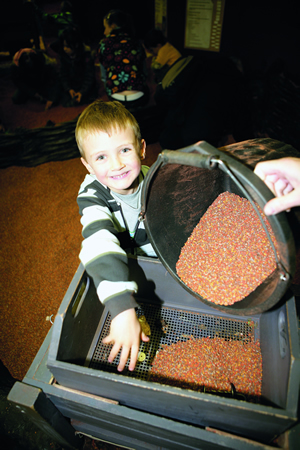 Liam loved being an archaeologist at DIG!
As we left the tower the prospect of going down all those stairs wasn't as much fun for the boys as going up. Instead they had decided on a much better way to reach the bottom – hill rolling.
The final day to use our passes had arrived. It was also a Sunday so I suggested to the boys we start the day with a visit to church. They didn't look too impressed. After all they were on holiday: didn't that mean getting out of attending mass? I explained that we were going to the coolest church ever, which was huge and had really cool windows. They were slowly warming to the idea. Once I mentioned there was another tower to climb and they wouldn't have to sit through a service, the deal was sealed.
The church in question was York Minster. Lying at the city's heart, the Gothic cathedral is one of the largest of its kind in Europe.
Its history goes back as far as AD627, when it was hurriedly built as a wooden structure to provide a place to baptise Edwin, King of Northumbria. Soon afterwards the church was rebuilt in stone. Since then, much like Clifford's Tower, it has had many turbulent years, facing fires and demolition. Most of the minster's final construction was completed by the 15th century. However, reconstruction and preservation work continue to this day.
Standing outside, we were already impressed by this 'cool' building. The spires reached high into the sky and the sun was reflecting on the many enormous and impressive stained glass windows.
Once they had spotted the tower, Josh and Liam were keen to get inside and attempt the climb.
The 104 steps of Clifford's Tower had been a mere warm up for this new challenge. The minster's 275 steps didn't sound too daunting. However, unlike those in Clifford's Tower, these were very narrow and spiralled all the way up. After much huffing and puffing, from all of us this time – you really do have to be quite fit to attempt the climb – we made it to the top.
Expecting similarly fantastic clear views to those we had obtained from the top of Clifford's Tower, we were a little disappointed that the top of the minster's tower was fenced off. However, there were observation points that you could poke your head (and camera) out of and a helpful guide to talk us through what we were looking at in each direction.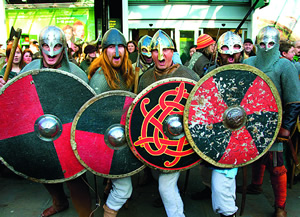 Unfortunately, we didn't visit during the annual Jorvik Viking Festival. The event sees hundreds of Vikings
After gazing out from all four corners of the tower, we had just caught our breaths before it was time to make our way down. Unfortunately, this time there was only one way to do it – we were walking.
A strenuous start to the day was followed by a much more leisurely afternoon as we headed off to enjoy Sunday lunch at a carvery restaurant. It was the perfect reward after all that climbing, I didn't even feel guilty about having dessert. We landed back at base camp recuperated and full.
We were nearing the end of our voyage and, with our passes now expired, it was time to arrange a new strategy in order to complete our conquest of York.
With not much silver left in the pot the solution had to be cheap or, even better, free. We soon realised that the answer had been surrounding us all along, the York City Walls.
Originally built by the Romans to defend the city, much of the walls are still intact. The walk stretches around the circumference of the city for more than two miles, allowing you to enjoy the views over the city and beyond.
The walls are connected by four main gateways that lead into the city. Bootham Bar, Monk Bar, Walmgate Bar and Micklegate Bar. We were informed that at each of these gates there were brass rubbings of the city map. However, as each gate only had a section of the map we would have to get around all four to complete it.
This was a great incentive for the boys and with crayons and sketch pads at the ready we got walking. Determined to complete their maps the boys happily kept up the pace and there were few complaints of tired legs. We strolled for over an hour, stopping now and again to admire the view or for the boys to have a battle. It was the perfect way to capture the last pieces of York and it didn't cost us a shilling.
As we reached the final gate Josh and Liam were triumphant. Rubbing the crayons over the last section of map there were cries of "We did it!"
And we had. The completion of our maps signalled the end of our voyage and we were pleased to claim victory over the city.
We came in search of answers to the boys' questions about life as a Viking. We saw the much-anticipated Vikings. We had conquered York.