Taking a family on holiday needn't cost a fortune if you take advantage of half term special offers and spring breaks
February half term holiday offers
Don't get cabin fever at home this half term – we've found the best bargain family caravan holidays for you and your family.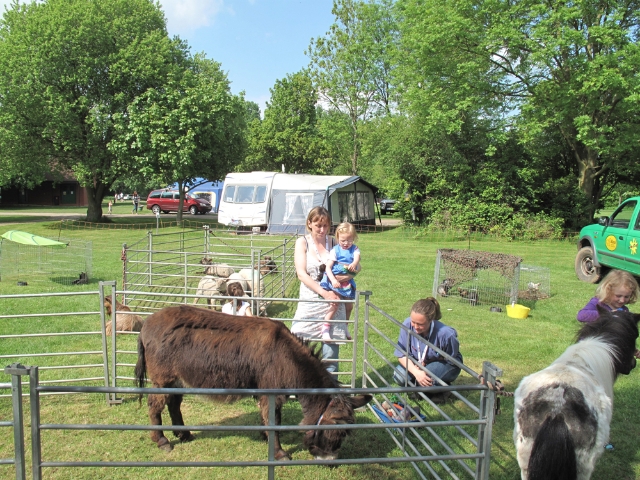 Camping holidays of all types offer children freedom to explore (photo Stacie Pardoe)
Searles Leisure Resort
Hunstanton, Norfolk
Searles Leisure Resort in Hunstanton, Norfolk, has many special offers at the moment, for instance you could have a half term static caravan holiday there from £99 for the whole family.  This Searles half term holiday offer applies from 14-24 February.  
Touring pitches: From 14-24 February, get 10 per cent off all serviced pitches. Pay from £16.20 per pitch for minimum three-night stay (01485 534 211). 
The Mariner's Bar at this family-friendly park features live bands and variety acts. Children's host Barry the Jester will lead daytime fun and games for children and there are arts and crafts activities so you can try new hobbies. 
Searles Leisure offers plenty of entertainment for all the family
Holiday homes to rent: From 21 February, stay three nights for the price of two in all holiday homes at Searles Leisure, with free entertainment and activities for all ages – price from £99.
Holiday homes to buy: If you like Searles Leisure Resort, you can buy a two-bedroom holiday caravan from around £9,995 to £16,000, a three-bed version from £16,000, or buy a luxury log cabin starting from £70,000. The 'deal of the month' at Searles is a brand new three-bedroomed 2014 Willerby Avonmore static caravan for £39,795 with a free pitch for 2014 and a storage box worth £490 (closing date end February). 
Swim and try out the jacuzzi at Searles Leisure Holiday Park in Norfolk
Parkdean Holidays
Parks in Devon, Cornwall, Dorset, Scotland, Wales, Hampshire and  Suffolk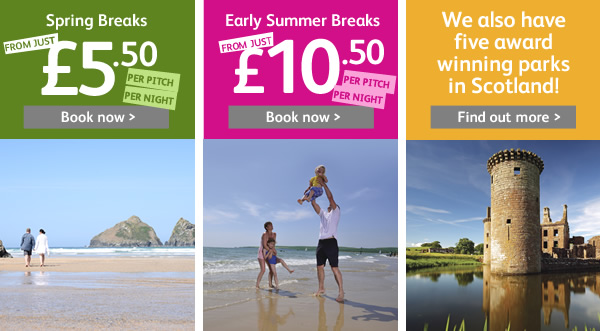 For last minute holiday offers check the Parkdean Holidays offers page
Camping holiday from £5.50 per pitch per night
Camping holiday from £10.50 per pitch per night 
Just visit Parkdean Holiday Parks website and click 'offers' for more offers throughout the year. There are 24 Parkdean holiday parks around Britain, many of them in Devon, Cornwall, Dorset, Scotland, South Wales and one in Hampshire, one in Suffolk. It can be cheaper to go on holiday than staying at home!
Beverley Holidays 
Paignton, South Devon
25 per cent off half-term lodge breaks. Kingfisher lodge was £391 and is now £294. Oystercatcher lodge is reduced from £405 to £304.
 Seasonal pitches can save you fuel and hassle
Solve your storage and towing problems in one go by booking an annual all-season pitch on a campsite. You'll save money on fuel, too. Beverley Holidays still has a few hardstanding seasonal pitches available for this year. Plus Caravan Sitefinder has a host of other campsites offering you a seasonal pitch in return for an annual fee. 
Competition at Beverley Holidays
Win a caravan break for spring
Beverley Holidays is offering a chance to win a break in the Celebration Gold holiday caravan in April or May 2014.  Closing date: 28 February, 2014.
Even if you don't want to go away in February, this is a great time to plan holidays for later this year. Book before 14 February to save up to £300 on your caravan holiday with Beverley Holidays. If that offer has expired click here for more Beveley Holiday offers. 
If you're child-free, whatever the weather, why not sign up for one of the tango, jive and rock and roll weekends? 
Win a holiday instead!
Visit Cornwall often runs competitions offering holidays as prizes and all you have to do in return is sign up for its newsletter.  The current competition is: Win a seven-night family holiday in St ives Bay Holiday Park! Closing date 31 March.
Win prizes
Practical Caravan and Practical Motorhome magazines regularly run prize draws to win camping accessories, tickets to camping shows, travel guide books and more. Check the websites regularly and enter online! 
Whether you're off to the Isle of Wight,  France, Spain or Holland, find the latest ferry offers from a number of ferry companies by going to aferry.co.uk. 
Now's a good time to book your ferries for later in the year. For instance if you book by 28 February you can save 20 per cent on Dover-Calais crossings with DFDS Seaways.  
Last minute deals
Some holiday parks offer last minute deals, for instance Gwel an Mor Holiday Park in Cornwall has a special offer page to keep your eye on. This park has just won Silver in the South West Tourism Awards' Holiday Park of the Year category.
Spring breaks 
Cornwall
The Park Mawgan Porth 
 28 February - 7 March
If you have no children, we haven't forgotten you – why not take a romantic spring break for two? Even if you do have young children, perhaps your parents will look after them so you can enjoy some special time together as a couple.  The Park Mawgan Porth's current offer is to rent a one-bedroom eco-lodge with a woodburner and hot tub at £49 per person per night. You'll get Champagne and chocolates, pampering in the spa and dinner at the Park Café thrown in.  If you've stayed on this beautiful five-star holiday park before, why not review The Park Mawgan Porth on Caravan Sitefinder? 
Haven Holiday Parks
Easter 4-27 April, 2014
Family holiday from £139
Easter deals: take your whole family on holiday from £139
Check Haven's website for regular holiday park offers. 

Special offers are often available at Haven Holiday Parks
Kidwelly, Carmarthen, Wales
Static caravans from £16,000 are available to buy at this attractive caravan park overlooking the bay. The park has a lovely child-friendly indoor swimming pool, bar, restaurant, family entertainment,  mini-golf and more. This holiday park reopens in March.
Practical Caravan and Practical Motorhome Reader rally 
Stowford Farm Meadows, North Devon
2-5 May
At £45 for the three-day bank holiday weekend, the reader rally run by Practical Caravan and Practical Motorhome magazines is a real bargain and a lot of fun for couples, families and dogs alike. 
School holiday dates
Dates vary around Britain, so please check your child's school holiday dates with the school itself or the local education authority in your area. A few extra teacher training days (INSET days) a year may be announced at the discretion of the school. Here are the approximate dates (not counting the weekends and bank holidays). 
17-21 February
7-21 April
26-30 May
24-31 July
1-29 August
Please leave a review!
Don't forget you can search for campsites and holiday parks, read reviews, check availability and book your holiday through Caravan Sitefinder.
When you get back, please post a quick review to let everyone know what you thought of the park and your holiday there. Reviews will really help other people when they are booking their holidays, even just a few words will be much appreciated by everyone. Our own current special offer is that for every review you post we'll enter you into a monthly prize draw to win £100-worth of Towsure vouchers!
Thank you.
Happy holidays!