Follow our tried and tested top tips for camping with kids to ensure you have a memorable time for all the right reasons.
Going camping with children can be wonderful. It can also be a complete nightmare if you're not prepared! Here's our guide to having the best family camping trip this summer.
Family tents
The most important aspect of any camping trip is always the tent. If you get the tent right, you'll be dry, and that's essential. It should also be spacious enough for the whole family so always go one room up when you buy a new family tent.
In my experience, being woken in a small tent by a toddler at sunrise day after day can be exhausting. Getting the right family tent means you should be able to get enough sleep so that daytimes are spent out and about, exploring and having fun.
If you're going camping with a new tent it's a good idea to spend some time practising putting it up. Your children will love camping in your garden for fun before you go away. Alternatively, don't leave it too late to put your tent up if you think you might need some help.
The essential feature to look for when buying a tent is the HH or 'hydrostatic head measurement'. Don't be tempted to buy a cheap tent with a low HH when camping with children. You can find out more about the HH in our Best Family Tents.
Look out for family tents with separate and darkened bedroom areas since these do help children to sleep later in the mornings, which could mean an extra hour or two of sleep for you!
Family Travel Fun
If you're going to be travelling some distance by car or train to get to your campsite then you will need to plan entertainment for the journey to keep your children from getting bored and irritable – or worse – travel sick!
A family singalong can be a lot of fun and an in-car DVD player is also a great option. Audiobooks are another useful way to keep younger children entertained, either with personal headphones or played through the car stereo. Sometimes it's nice to share the experience so a family-friendly audiobook that's entertaining for everyone can be ideal. Headphones are advisable if you're travelling by train.
Food and Drink
Feeding the whole family while you're away camping can be easier than you might think as long as you plan ahead. Making overnight oats for an instant, delicious and filling breakfast is also a simple way to make sure everyone gets a portion of fresh fruit and a really good start to the day. It's easier than cooking breakfast when you're camping and a lot more delicious and nutritious than a croissant.
I'd recommend bringing healthy cereal bars with you to keep your energy levels up and the easiest way to make a big dinner for all the family is in one pot. Try these One-Pot Recipes for inspiration.
Finally, don't forget to bring water bottles. It's important to keep children well hydrated especially in hot weather.
Clothes and Bedding
Well-fitting sturdy walking boots or at least comfy trainers for everyone is essential if you're going to be doing a lot of walking. I recommend trying them out before you go away since sometimes new shoes or boots can be uncomfortable.
Bring more than one change of footwear for everyone. It's a good idea to bring flip-flops or sandals for the beach and wellies – just in case! Even in the height of summer, it can rain so it's important to take waterproof coats.
The evenings can become very cool sometimes too, so bringing fleeces and warm clothes, as well as light summer clothes, is essential. And don't forget to bring the sun cream!
Sleeping bags, pillows and a dry tent will help to ensure you all stay comfortable and warm, and fleecy pyjamas for the children can be a cosy addition.
Camping Days Out
You might enjoy long hikes in the countryside, up hills and in the mountains but little legs will only be able to walk so far. A baby sling or carrier is ideal for young babies and toddlers, but you can't always take a pushchair with you and very young children will need frequent breaks and snacks.
Camping Nights In
One of the most wonderful aspects of camping with children is being able to spend so much time together in the great outdoors. You can sing campfire songs or tell funny or spooky stories. Just don't make the stories too scary for young children if you want them to sleep through the night.
Finally, last thing at night, simply stargazing is a wonderful way to connect with your children and discuss nature, life, the universe and everything!
Find some of the best family-friendly campsites.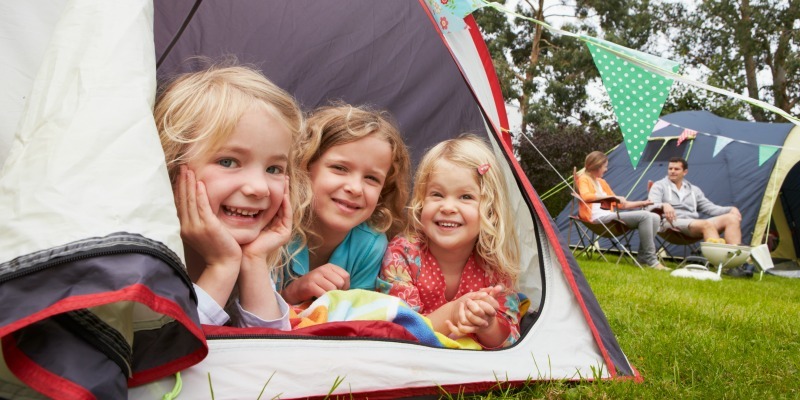 Camping offers the perfect opportunity for teaching children to respect nature and wildlife. Where will you go camping this summer?