Have you ever had such a wonderful holiday that you've found yourself browsing the local estate agents' windows just to see if you can find a way to stay in that location forever?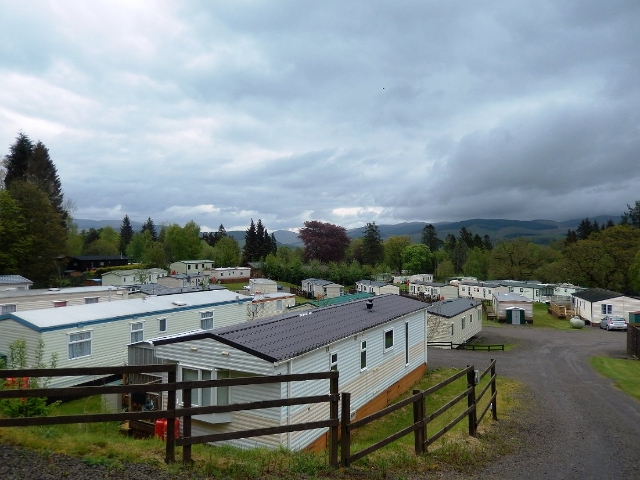 Ever fancied owning a campsite? Beattock Country Park in Scotland is for sale
Perhaps you've wondered what it's like to run a campsite or holiday park in a beautiful location. I know I have. So I was excited to see this. 
This well established campsite with a restocked fishing loch is for sale in Scotland's beautiful Dumfries and Galloway. Just imagine catching your own rainbow trout and cooking it up on a little barbecue beside your own 5.6 acre Scottish loch! I'm thinking of learning the Highland Fling just at the thought of it.
Beattock Country Park (formerly Craigielands) is a touring and static caravan holiday park for sale in Moffat with more than 50 acres of land, including the loch, which is apparently well stocked with fish. The park already has 129 static caravans and lodges pitched around the site. There are also 65 touring pitches for tents, motorhomes and touring caravans to book. As an added bonus there's a bar, which has recently been decorated, and there's an office and park shop.  
This park offers breathtaking views and is also one of the lucky holiday parks in Scotland that has been granted a licence to open for holiday use all year round, for up to 259 pitches. 
This is a freehold property and the sale is being handled by the specialist holiday park estate agent, Colliers International.
Richard Moss, director of Parks, Sports and Marinas, Colliers International, said: "Beattock Country Park is set in a picturesque woodland setting in the heart of Dumfries and Galloway. This area of Scotland is immensely popular with tourists and this is proven by the occupancy of the park. The business has a lot of potential and we, therefore, expect to receive a lot of interest from national and regional parties."
The nearest town to Beattock Country Park is the picturesque Moffat, just two miles away. Carlisle is only around 39 miles to the south. Holidaymakers could even make this their stopover on the way to Glasgow, 57 miles away, or Edinburgh, 60 miles away to the north of here.
So if you'd like to buy a campsite this week, just get in touch with Colliers International for all the details. What's the catch? Well, unfortunately you might just need to buy that winning lottery ticket first. Colliers International is seeking offers over £1.5 million. 
Don't give up the day job just yet...
Funnily enough, though, there are other campsites for sale at the moment around the country, so it's worth browsing through the commercial property sections of estate agents' websites. For instance there's a Welsh campsite for sale for £375,000 from UK.businessesforsale.com. While Daltonsbusiness.com lists a 22-pitch touring caravan park and pub in Northumberland for £695,000. Meanwhile there's a campsite in Denmark at €804,000 on buymydreamhotel.com.
So if you do fancy changing your life after coming into some money, this could give you a complete change in the pace of your life and a French 3-star campsite outside medieval Bressuire in Deux-Sevres, Poitou-Charentes up for just €345,000. (Make sure you use a country-specific specialist property legal eagle if you're buying property outside the UK.)
What a life-changer it would be for most people to buy and run a campsite. One thing's certain, this kind of lifestyle business would give you a chance to enjoy the great outdoors as never before.  
Alternatively you could just go on camping holidays to Scotland (or Wales, England, Denmark or France) as often as possible! We have some wonderful campsites and holiday parks on Caravan Sitefinder.
For some great things to do and places to go during your camping, motorhome and caravan holidays in Scotland, see our sister magazine Practical Caravan's Guide to holidays in Scotland. 
Caravan Sitefinder lists plenty of other great campsites in Scotland that you could visit if Beattock Country Park is full. Just put campsites in Scotland into the search field on the home page and start browsing. Happy holidays!